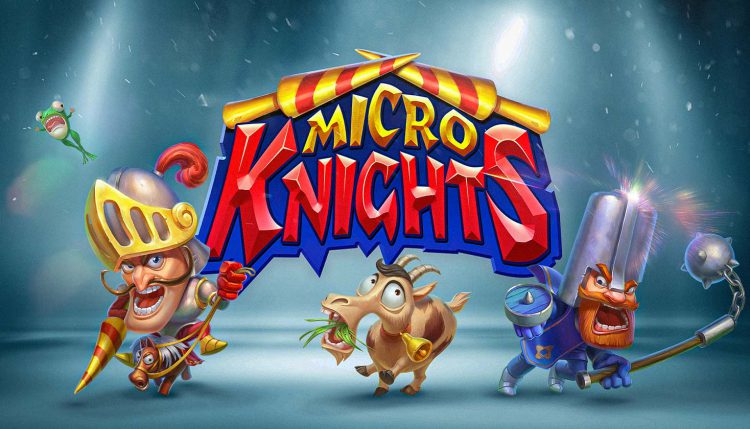 The Return to Player (RTP) of Elk Studios slots are not bad at all, but none are spectacular either.
Elk Studios released 33 video slots from 2015 up to 2019 and is knocking on the doors of the larger slot providers. Elk Studios has and is delivering high-quality slots.
We see that the new Elk slots are played much more often and are competing against the leading providers like Netent or Play'n GO.
SuperBigWin already reviewed a lot of Elk Studios slots. We even compiled our top 10 list of best Elk slots for you.
In the ever-growing pile of video slots that are released every year, we imagine you can quickly lose your way because you can't see the wood for the trees.
To enable you to better choose between the growing number of (Elk Studios) slots, we decided to check on the RTP's of their slots.
We asked ourselves which ones have the best RTP's? And, why does a higher RTP matter?
Also, are they any better or worse than that of other providers?
Let us find out!
Which Elk slots have the highest RTP, and which ones the lowest?
Below the complete list of the 33 Elk Studios slots, sorted by the RTP. The list includes all slots up to (and including) 2019.
The two slots released (so far) in 2020 are: Hit It Hard (RTP: 96.3 %) and Micro Knights (RTP: 96.0 %).
Why a higher Return to Player matters
The higher the RTP, the better it is for you as a player. If, for example, the RTP is 96%, it implies that (in the long run), you will lose $€4 after every $€100 you have wagered.
But would the RTP be 97%, you would "only" lose $€3 after every $€100 you have wagered.
You can argue that the 1% difference is not so significant. But it does matter — more than you think.
You could, for example, have a balance of €100, but wager in total €500 (you play with your winnings as well).
If the RTP is 96%, you would expect to lose: $€500 x 4% = € 20
If the RTP is 97%, you would expect to lose: $€500 x 3% = € 15
You can see that the difference is already more substantial. And it becomes larger and larger, once you start to wager higher amounts.
The RTP has nothing to do with the volatility (or variance) of the slot. Variance says something about the variation of the sizes of wins.
High volatility slots pay out more top prizes (but less often). Low variance slots pay out smaller prizes (but more often).
How do the payout rates of Elk slots compare to the average for online slots?
We compared the RTP's of the 33 Elk Studios slots (up to 2019) with the RTP's of slots of 16 of the more prominent providers (1215 slots released since 2012).
You see that most of the Elk Studios slots (the red coloured dots) are very close to the green coloured line, the average RTP of the slots, which is around 96.25%.
None of the Elk slots is above the 96.5% mark, which is a bit of a blow. On the other hand, though, only 1 Elk slot is below the critical 96% mark.
You also see that about half of grey coloured dots (representing the RTP's of the slots of 16 other providers) are below the red dots and about half above the red dots.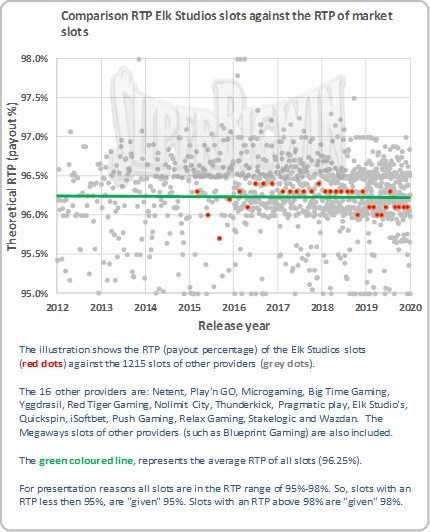 Conclusions –Elk Studios' slots have average RTP's: not bad but also not great
Elk Studios slots (except for one) all have an RTP between 96% and 96.4%. Therefore, there is no reason not to play, as the RTP's are around average.
If you are looking for slots with a higher RTP, you need to look elsewhere, though.
So why is Elk Studios so successful despite their average RTP rates? You could argue that when a game studio can create a superior gaming experience, a developer can command a higher "price" (award a lower RTP) for their gaming service.
Elk studios is one of our favourites just because of their ability to release slots with superb gameplay. This radiates positively on the Elk Studios brand name and its brand added value.
Similarly, this is why some game developers have to "pay" more/can only command a lower "price" (award a higher RTP). They lack the brand added value or superior gameplay to draw in the crowds.
The other way around, unfortunately, is also true.
Take, for example, Netent's troubles. They used to introduce top-level video slots. Only over the years, they lost talented creatives and developers, and they are, currently, not able to wow and surprise the slot player with new slots.
Slowly but surely, all the remakes and sequels are eroding the brand, and are alienating their loyal slot players.
Look for Elk Studios slots at these online casinos
If you are looking for Elk Studios slots, you can check out the online casinos on our list below.
All of these online casinos offer you the chance to play real money casino games or to play with practice money.