The Wish Master slot from Netent is a beautifully designed video slot with several unique 'Netent' features. This slot is all about magical wishes and many, very many surprises.
As the seasoned online gambler may know, Netent slots are always special. Although Netent releases new titles at a staggering pace (1 per month), they almost always manage to innovate and surprise. And that is very impressive and smart.
But first this: before I extensively review The Wish Master, a fair warning: this slot will not please everyone.
The Wish Master slot has a very high variance, and that means it has very deep valleys and very high peaks. Some players love it; others will be running for the doors.  Any way you look at it, this slot machine is full of fun features.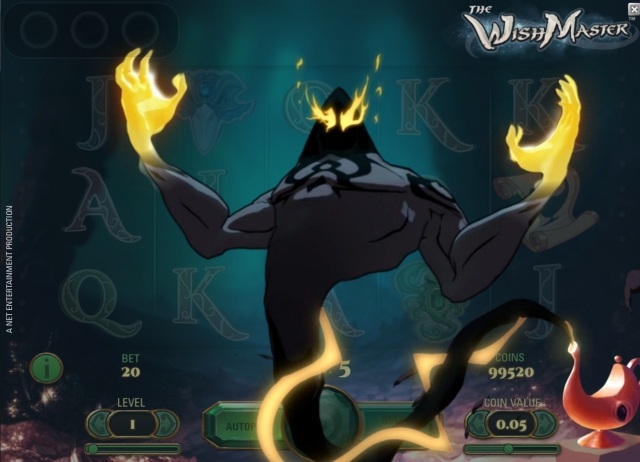 How does The Wish Master slot work?
The Wish Master has 20 paylines and is set on a standard playing field of 5 reels with 3 symbols per reel. It has a nice payout percentage, as is usual with Netent slot machines.  A very fine 96.6%, that's A-OK.
The variance of The Wish Master is very high. Perhaps a little too high. The primary game of The Wish Master immediately becomes my biggest criticism. There are too few prizes that drop down, and when they do, they are almost always small. And that can be incredibly frustrating. If you spin 20 x and you only get 3 symbols a few times, which don't even cover your bet, then that's just not fun.
Fortunately, the bonus drops quite frequently. And then suddenly it can become a whole lot of fun…

Bonus rounds in The Wish Master
The bonus round will be triggered in The Wish Master when the magic parchment symbol falls. One symbol is already enough to conjure up The Wish Master. And that is the beginning of a truly unique bonus round in which all sorts of things happen. Just the way I like it. The Wish Master gives you a power-up for the next 10 spins (which are not free!). This power-up can consist of:
Expanding Wilds
Extra wild symbols
Symbols that turn into a Wild Symbol
Extra multipliers
Extra Reels Wild (Reel 2 or 4)
Now I can hear you thinking, "This is nice, but what is so special about it?" Not much. Until you are lucky enough to spin the magic parchment symbol again during these spins. Then you get 5 extra spins and a double power up.  Should Lady Luck be on your side again to make The Wish Master appear again, you'll receive a third power up, and another 5 extra bonus spins. And then suddenly things can accelerate rapidly.
It is possible for you to have a 3 x multiplier, expanding Wilds and extra Wild symbols (which also expand) all at the same time!
And that is what makes The Wish Master a very special slot: excitement, surprise and high payouts.
The three magic ingredients of a successful bonus.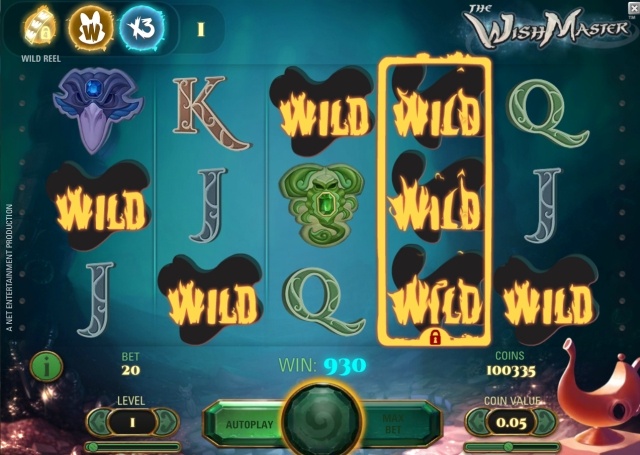 3 good reasons to love The Wish Master:
Beautiful animations and a pleasant atmosphere
Unique bonus that combines the best of many different bonuses. Stacking power-ups was a brilliant move
Bonuses also fall quite often
When you should ignore The Wish Master:
If you also want to get nice payouts in the primary game. Not going to happen with The Wish Master
If you can't stand the extreme volatility of this slot. You sometimes face very long droughts, whether you like it or not.
Our verdict on The Wish Master
I give The Wish Master an excellent grade. The unique bonus and the awesome design are in large part responsible for that number. I would have liked to have seen a little more balance between the bonus game and the primary game.
But it's a title by Netent that's worth a try.
4,1 out of 5 stars.
Where can you find The Wish Master?
The Wish Master slot is found at all reliable Netent casinos. One of these Netent casinos is Casumo, which is one of our favourite online casinos.
You can play The Wish Master slot at Casumo with a 200% bonus up to $€50 plus 200 free spins.