Super Sic Bo is a popular casino dice game, especially in the Eastern parts of the world.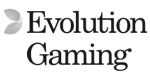 In Super Sic Bo, you place bets on the outcome of a roll of the three dice. There are a lot of different bets that can be placed.
For example, you can bet on the total number of dots of a throw, or if a triple will be the result (all three dice show the same amount of spots), or which ones of the dice will be a part of the result (for example a 4 and a 5). There are fixed payouts for every type of bet.
To be clear: we are still talking about regular Super Sic Bo.
The Super Super Sic Bo game that this review is about is a live casino variant of Super Sic Bo by Evolution Gaming. And it wouldn't be an Evolution Gaming game if there wasn't an extra twist added.
That extra twist, in this case, is several mystery multipliers that can occur with certain types of bets. These mystery multipliers go up to a whopping 1,000 x the total bet. As far as the set up goes, it is very much like Lightning Roulette, which is one of the most popular roulette games of the moment.
Chances are that Super Sic Bo, as opposed to the regular Super Sic Bo, will catch fire on the European continent. Through the added multipliers, this game has become a whole lot more interesting.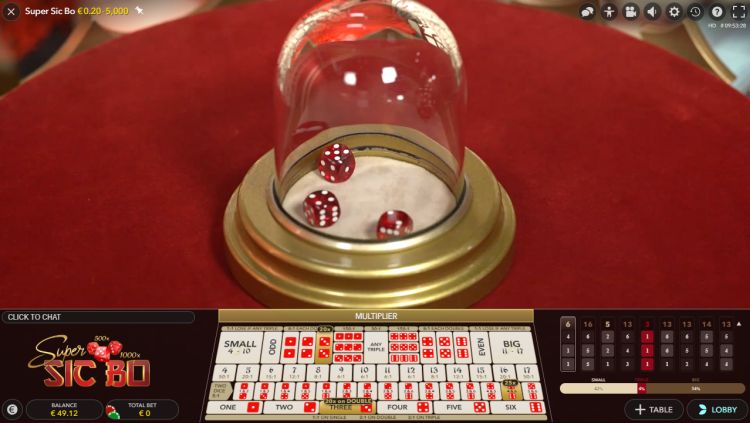 How does Super Sic Bo work?
With Super Sic Bo it is about two things: the dice and the multipliers.
Let's start with the dice because without them there is no Super Sic Bo.
The game uses three dice that are contained within a transparent shaker. With every throw, the dice are vigorously shaken, for the throws to have different random outcomes.
When all the dice lay still and straight, the result of the throw is final.
Betting is done familiarly: you select a chip value and click on the bet(s) you want to place. The minimum stake is only $€ 0.20 per bet, while the maximum stake is $€ 5,000.
The game is presented by a croupier of Super Sic Bo, whose main task is to chat away to keep the game flowing. There is no wheel to spin nor are there Lightning Strike handles to pull in this game.

Which bets does Super Sic Bo have and what are the payouts?
You can put money down on different types of bets with Super Sic Bo, that vary in risk.
The bets with the best odds are Odd / Even and High or Low. Both pay out your stake with a win.
To compensate for the extra multipliers in the payout table, a number of bets will have lower payouts in Super Sic Bo then in the regular Super Sic Bo game
Furthermore, you can put money down on doubles, triples, any triples, the total number of pips (dots on the dice) or a combination. A mystery multiplier can only occur on these bets. The maximum size of the multiplier depends on how hard the bet is. The harder it is to win your bet, the bigger the maximum multiplier.
This is the complete payout table of Super Sic Bo:
| | | |
| --- | --- | --- |
| Bet: |  Payout: |  Max. payout: |
| Big/Small |  1:1 |  N/A |
| Even/Odd |  1:1 |  N/A |
| Double |  8:1 |  87:1 |
| Triple |  150:1 |  999:1 |
| Any Triple |  30:1 |  87:1 |
| Total 4 or 17 |  50:1 |  499:1 |
| Total 5 or 16 |  20:1 |  249:1 |
| Total 6 or 15 |  15:1 |  87:1 |
| Total 7 or 14 |  12:1 |  29:1 |
| Total 8 or 13 |  8:1 |  24:1 |
| Total 9 or 12 |  6:1 |  49:1 |
| Total 10 or 11 |  6:1 |  24:1 |
| Combination |  5:1 |  24:1 |
| Single Single |  1:1 |  N/A |
| Single Double |  2:1 |  19:1 |
| Single Triple |  3:1 |  87:1 |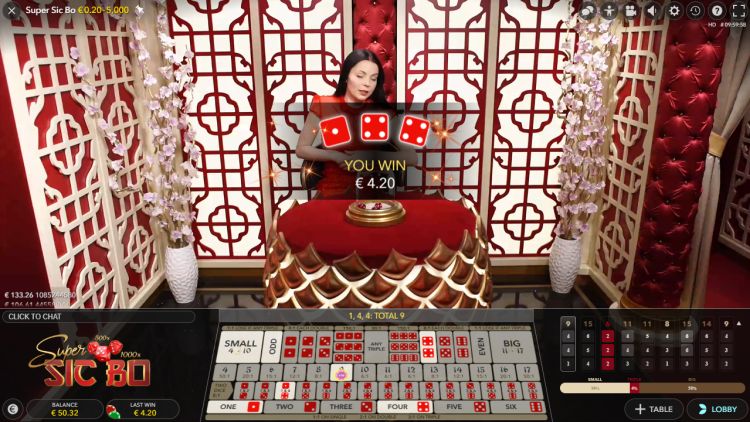 What is the payout rate of Super Sic Bo?
The payout rate of Super Sic Bo is between 95.02% and 97.22%.
Please note that this is a percentage that has already accounted for the mystery multipliers.
The bets with the smallest house edge are the Big / Small and Odd / Even ones. These singular bets all payout 97.22%, which amounts to a house edge of 2.78%.
If you just focus on the payout rate, it is best to only play singular bets. Betting on the multiplier numbers is a lot more fun, though
So singular bets have the lowest house edge, but of course, the fun in this game lies in the extra multipliers: these allow you to win substantial amounts of money, even with small bets.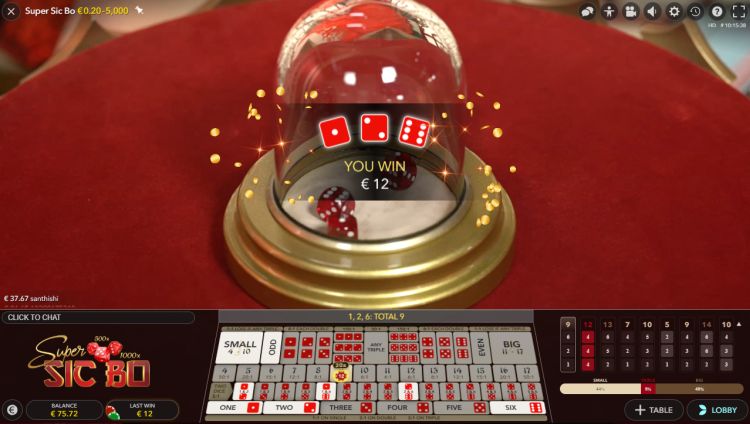 Our verdict on the Super Sic Bo video slot
Super Sic Bo is a game exactly like you would expect from Evolution Gaming.
It is well put together, down to the smallest details, is technically sound and offers, because of the multipliers up to 1,000 x, a unique proposition.
This brand new Sic Bo variant could give the popularity of Sic Bo an enormous boost.
The number of times we played Sic Bo before Super Sic Bo was released could easily be counted on one hand (with four fingers left over), but now we have spent several enjoyable hours playing this new variant.
4 out of 5 stars.
Where can you find Super Sic Bo?
The Super Sic Bo slot is found at all reliable Evolution Gaming casinos. One of these Evolution Gaming casinos is Casumo, which is one of our favourite online casinos.
You can play the Super Sic Bo slot at Casumo with a 200% bonus up to $€50 plus 200 free spins.