Starquest is an online slot by Big Time Gaming, a casino games developer who primarily aims to reach the serious gambler, who is not averse to taking some adrenaline-inducing risk.

Many slots by Big Time Gaming are known for the Megaways gaming mechanism: a tremendous amount of numbers of ways to win.  Starquest also falls into this category; there are no less than 117,649 possible combinations. As if that is not enough,  just to make things a little bit crazier – and more interesting – there are stacked wilds and extra multipliers, up to 5 x in this game.
Starquest is probably best described as a type of high variance Starburst type of game, on crack and steroids.
What is the variance and payout rate of the Starquest slot?
The theoretical payout percentage of Starquest is a very healthy 96.22%. The maximum payout of Starquest is a phenomenal and almost unbelievable $€ 500,000 per spin. As a consequence of this stupendous potential, it follows that the variance in this game is going to be extremely high. Often you will win little or nothing, but every so often you are going to land an incredible pot of gold.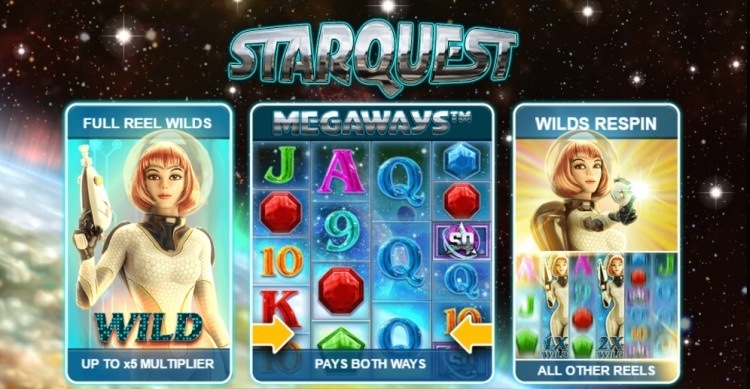 How does the Starquest slot work?
As we mentioned earlier, Starquest has a maximum of 117,469 ways to win. As far as we know, that is a record.
This does not mean that this slot pays out more than other slots. What it does tell us is that the potential here is a fair size bigger  than that of most other slots
The minimum bet with Starquest is $€ 0.20 per spin. The maximum bet is $€ 40 per spin. Make sure you have a healthy, rather hefty amount in the account – because of the high variance your balance can fluctuate rapidly between riches and rags. A bit like being in a roller coaster.
Up to 117,649 combinations per spin
Starquest has a total of 7 reels, and with every spin, you obtain a variable number of symbols per reel: minimum 3 and maximum 7.
Should every reel yield 7 symbols then you get 7 x 7 x 7 x 7 x 7 x 7 x 7 = 117,649 possible combinations.
Starquest is not a slot with a lot of bells and whistles or eye-popping animations. This is (like so many Big Time Gaming slots) a slot meant for the serious gambler.  The sky-high potential is the power of Starquest – you can get your hands-on mega money on this slot.
The symbols consist of a mix of gemstones, the well-known 9, 10, J, Q, K and A symbols and the highest one of all: the Starquest symbol. All symbols are stacked, with the exception of the Starquest symbol.
Get extra wilds and multipliers
When the female space cadet with the dangerous curves appears on the screen, she pulls her laser pistol and shoots the whole reel wild. On top of that, you will get a free respin in which all reels with wilds remain.
Should you be lucky enough that more wilds fall, you will get another free respin. And to put the cherry on top: with every respin the multiplier is increased by +1. The maximum multiplier is 5 x.
It is possible with this slot to get stacked wilds and extra multipliers on reels 2, 3, 4, 5, and 6. If you are successful in getting this done,  know that your payday just went into the stratosphere.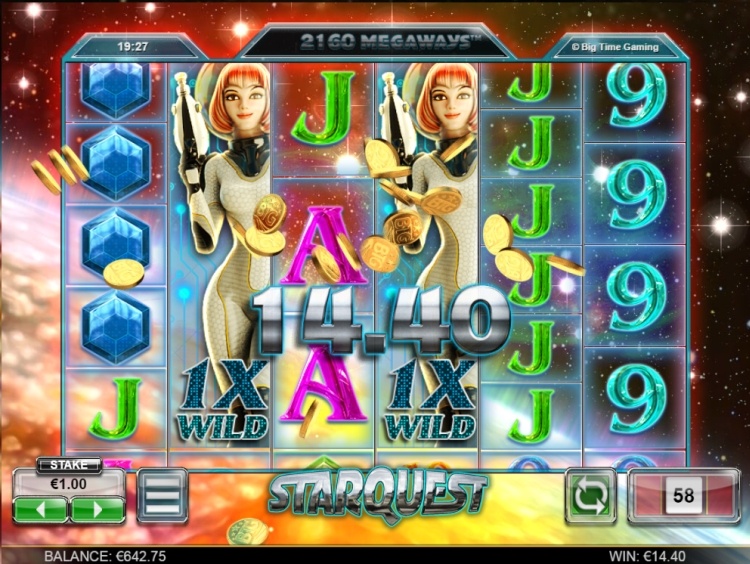 Our verdict on the Starquest slot?
The science fiction slot Starquest is a real straight forward slot. There is no free spin bonus, no way to save up and there are no mystery games to be found here. If you love slots with a real storyline, impressive animations and ear-catching soundtrack, then Starquest may not be your cup of tea.
On the other hand, if you like slots that give you the opportunity to hit astoundingly big payouts and you are also not one to shy away from some big-time risk, then you will find few slots better then Starquest.
We do advise you to play Starquest with some lower bets first if you are gambling with real money. After you become familiar with the variance and the balance in the game, you can opt to increase your bets.
4 out of 5 stars.
Where can you find Starquest?
The Starquest slot is found at all reliable Big Time Gaming casinos. One of these Big Time Gaming casinos is LeoVegas, which is one of our favourite online casinos.
You can play Starquest at LeoVegas with a 200% bonus up to $€ 100 plus 250 free spins.
Play Starquest at Slots Million with a 200% bonus up to $€ 100