Starburst is the most popular online slot in the world, period.
There is something about those soothing, almost hypnotising sounds and graphics that keep us coming back. And back, and again.
Starburst was developed by Netent and has proven to be an instant hit all over the globe. With a distant space theme, Starburst is filled to the brim with stacked symbols, expanding wilds and retriggers.
Starburst is a typical low variance slot, putting entertainment and extended gameplay first and big wins in second place.
Due to its simple gameplay and easy to understand game mechanics, it is the ideal slot for new slots players.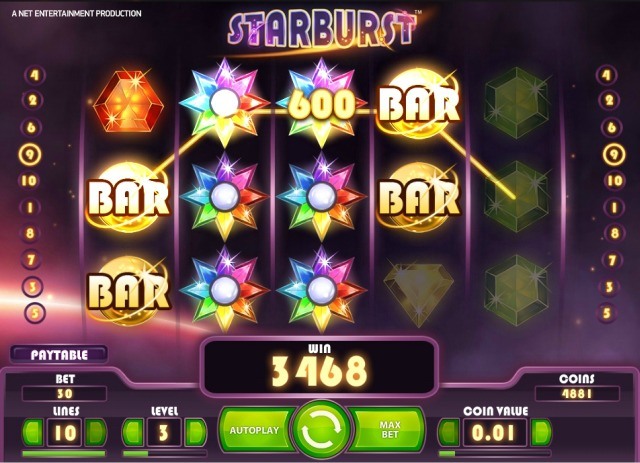 Win up to three respins with stacked Starburst Wilds
Although the base game is fairly standard with a 5 x 3 set up and stacked symbols, Starburst comes to life whenever the Starburst symbol lands on one or more of reels 2 to 4. When this colourful symbol hits, the entire reel is made wild, and one respin is given. A maximum of three reels can turn wild with up to three respins.
If you can get two or three entire reels wilds with some of the higher paying symbols (preferably the Bars or Sevens), significant payouts can happen.
Starburst always seems to come in bursts (pardon the pun) of winning streaks for me. Sometimes you can have substantial dry spells with hardly any (multiple) wild reels or big or even medium wins and other times when Starburst is in a giving mood, and you cannot seem to lose.
Starburst is an ideal slot for me to play when I am down on my luck. If it is not in a good mood, I will quickly move to another slot. But if this slot is riding that positive payout wave, Starburst has turned many losing sessions around for me.
Financial analysis of Starburst
We have put together an extensive financial analysis of the Starburst slot, including:
Our results of 5,000 real money spins on Starburst
The prize distribution
Your chances of winning on Starburst
How to successfully apply the "Hit and Run" strategy to Starburst
Our results on 5,000 real money spins on Starburst
We played 5,000 spins on Starburst with real money.
Just how well did the world's most popular online slot treat us?
Here are our results.
What kind of prizes does Starburst payout?
Starburst is one of the lower volatile slots. This means that Starburst pays out more smaller prizes compared to most other slots.
Take, for example, prizes of 20x to 50x or 50x to 100x your total bet. These prizes are paid out once 200 and once every 600 spins respectively. Starburst stands out for these type of prizes: mediums sized and still substantial.
Rewards of 500x your total bet or even higher are not realistic with Starburst.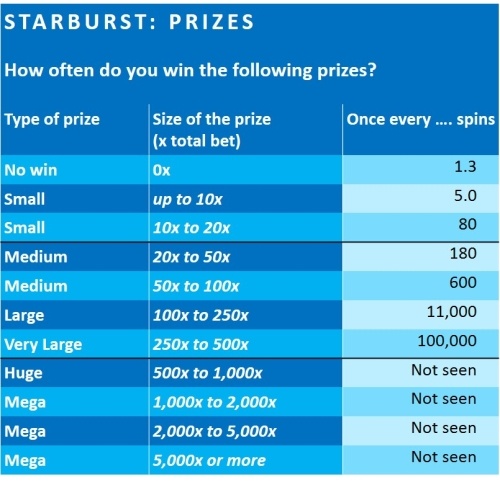 What are my chances of winning with Starburst?
Below, your chances of winning (or losing) specific amounts of $€, when you spin 100 x ($€1 per spin) or 500 x ($€0.20 per spin).
For the sake of comparison, the total amount wagered is $€100 in both cases.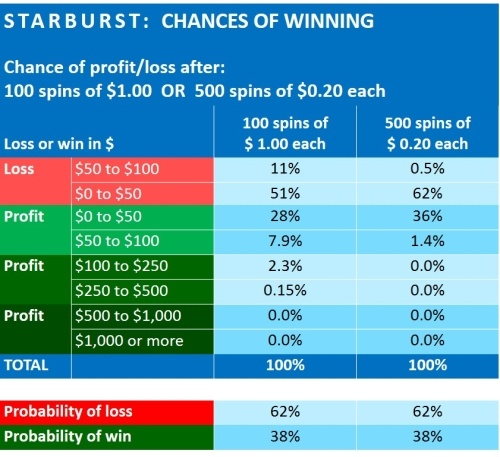 You see that your chance of winning at least 5x your bankroll ($€500) or more is 0% if you spin 100 x ($€1 per spin). You see that you have no chances to win big with this slot. This is in line with what you would expect with a slot as Starburst.
If you spin 500 x, you can be assured that you have bankroll left. Chances of losing more than $€50 are limited to 0.5% only.
Starburst and the "Hit and Run" strategy
With the Hit and Run strategy, you have an initial bankroll of (say) $€100. You start playing $€1, $€5 or $€10 per spin.  You stop playing when you either:
Have reached your target profit: profits of at least $€10, $€20, $€50, $€100, $€200, $€500, $€1000, $€2K, $€5K, $€10K, $€20K or $€50K (the latter is 500x your bankroll).
Have lost your entire bankroll ($€100 in this example)
The table below shows the chance of meeting the target first: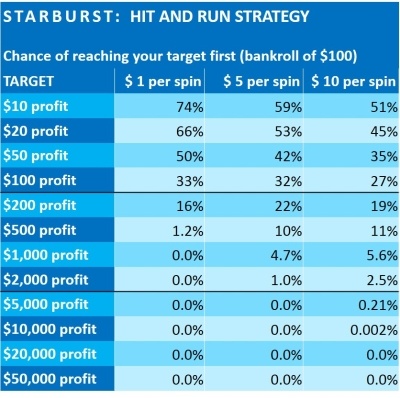 The Hit and Run strategy works well with Starburst if you do not aim to make a massive profit.
For example, the chance of reaching the target of $€50 is 50% if you stake $€1 per spin. Avoid doing spins of $€1 if you aim higher prizes, such as $€200 to $€500 profit.
If you choose to aim for higher a profit (of say $€2000 or more, 20x or more times your bankroll), you are better off with medium or high variance slots.
Conclusion: Starburst is an extremely low variance slot, ideal for players who like to play it safe
Starburst is the perfect slot for players who want to play safe. Starburst does not have too much downside risk. There is some upwards potential, not as much though as with more higher variance slots.
The Theoretical RTP of Starburst is 96.1%, which is pretty good (not outstanding though)
Starburst is THE slot if you are looking for an extremely low variance slot.
More, smaller and medium-sized prizes are paid out by Starburst, than most other (more volatile) slots. Prizes exceeding 500x the total bet are extremely rare.
Hit and Run Strategy: It is the perfect slot, only if you do not aim massive profits. Making such kind of profits are not realistic with this slot!
Starburst: the most popular online slot
Love it or hate it, Starburst remains the single most played online slot to this day.
It is a simple, yet mesmerising slot that can either enthral or irritate you to no end.
Where can you find Starburst?
Plenty of online casinos will throw in Starburst free spins bonuses for new players, so make sure to benefit from that. 
Play Starburst at Casumo and get a 200% bonus up to €$50.