Side Bet City keeps bringing one live casino game after another to the lucrative live casino market.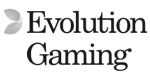 But whereas in some cases you pretty much know from the word go that this game will be a success (Monopoly Live, Deal or No Deal Live) they do sometimes release games that we have some serious doubts about.
Side Bet City is one of those games. We are going to go out on a limb here and state that Side bet City isn't going to make it.
We do have some points to support our argument:
Side bets have a bad reputation among gamblers because of the large house edge, and rightly so. They are called "sucker bets" for a reason. So to name a new game after a gambling term with a negative connotation doesn't seem too bright to us.
Despite the fact that the house edge of the games in Side Bet City is considerably lower than with most side bets in other games, it still doesn't add up.
Depending on the game, the house edge is between 3.51% and 5.66%. Compare that to the advantage the house has in Roulette (2.7%) or Blackjack (0.5%).
The game is also a bit dull. No Lightning Strikes, no extra features.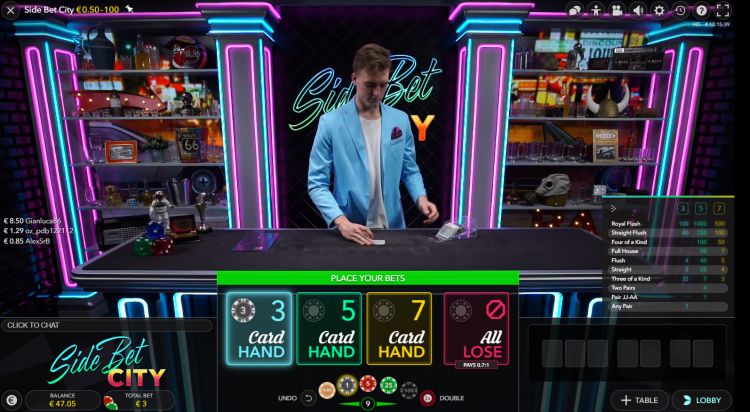 Confused theme and tacky appearance
As far as the theme of the game goes, it is a mess. We have already played Side Bet City for just under an hour, and we still don't have any idea what the studio is supposed to represent.
Is it a flea market, a Route 66 souvenir shop or is it perhaps the cluttered basement of the Evolution Gaming headquarters?
In any case, it comes across as very unsettled. The dated Eighties clothing that is worn by the dealers also does nothing to help the atmosphere.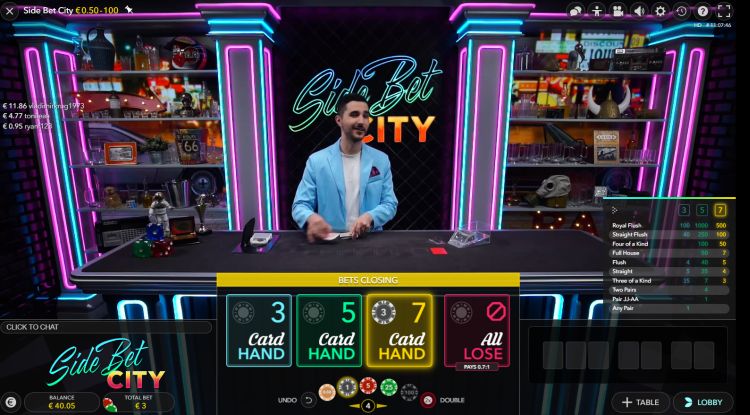 How does Side Bet City work?
With Side Bet City, you place bets on the outcome of a maximum of 7 cards.
The payout table of this game is similar to a poker game.
You can start betting as low as $€ 1, and that can go all the way up to a maximum of $€ 2,000, per turn.
There are four betting possibilities:
3 Card Hand: make combinations with three cards
5 Card Hand: make combinations with five cards
7 Card Hand: make combinations with seven cards
All Lose: place a bet on no winning combinations occurring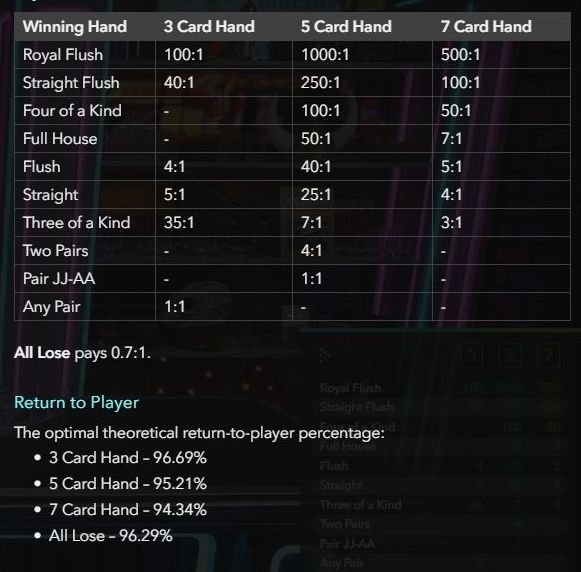 What are the payouts with Side Bet City?
If you play a 3 Card Hand for example and three 7's appear, you will win the payout of a 3-of-a-kind that goes with the 3 Card Hand. In this case, that is 35 x the total bet plus the buy-in.
If in 7 cards a straight turns up and you played the 7 Card Hand, you win the payout for a Straight: 4 x the total bet plus the buy-in.
The highest possible payout is a 1,000 x the bet. You win this when you end up with a Royal Flush with a 5 Card Hand.
All Lose bet: high chance of winning, low payout.
The All Lose bet is a different type of bet. Here you are not betting on the fact that you will end up with a winning combination, but that all hands (3 Card, 5 Card and 7 Card) will be losing hands. The payout amounts to 0.7 to 1.
So imagine you put down $€ 10 on All Lose and there is not a single winning combination, then you win $€ 7 (0.7 x $€ 10) + $€ 10 (the buy-in) = $€ 17.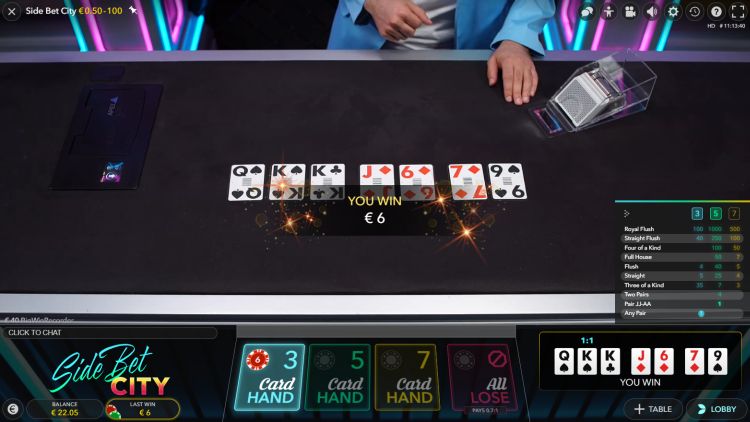 Side Bet City house edge, strategy and tips
With Side Bet City, you cannot influence the game. So that is where the comparison with poker immediately ends.
What does make sense is to look at the payout rates of the different types of games. Because here there are some interesting differences to be noticed.
Side Bet City has the following payout rates per bet:
3 Card Hand: 96.49%
5 Card hand: 95.21%
7 Card Hand: 94.34%
All Lose: 96.29%
From these payout percentages, you can see that the 7 Card Hand has the highest house edge: 5.66%. That is a very high number for a table game. The 5 Card Hand is also a bet to be avoided: this one has a house edge of 4.79%.
Now, most side bets already have a reputation for low payout rates, and although the side bets of Side Bet City are not as terrible as most side bets in other table games, it still does not make sense for a player to play this game for real money.
Games such as Lightning Roulette, Blackjack or Baccarat have a significantly lower house edge.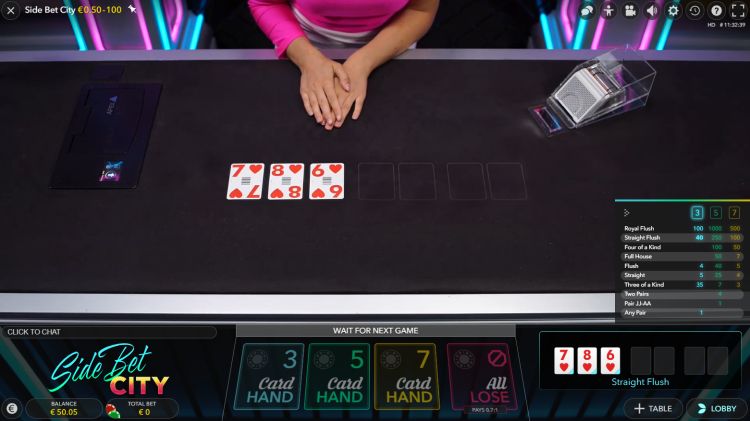 Always play 3 Card Hand, avoid the rest!
The smallest house edge is in the 3 Card Hand: 3.51%. You can call that somewhat acceptable. The All Lose bet pays out 96.29% on average of all monies put down, that boils down to a house edge of 3.71%.
Our problem with the All Lose bet is that it is incredibly boring to play. You get small payouts, and you can only get those when absolutely nothing happens in the game. You can compare it a bit with betting on a 0-0 draw in a football/soccer match. You're sitting there watching and hoping no one scores.
Your best choice is to play the 3 Card Hand bet. It has the highest payout rate, has the prospect of reasonably high payouts and approaches the game with a positive outlook.
If you are a low variance player and a bit of a pessimist, then the All Lose bet was made just for you.
Evolution Gaming tries the classic Side Bet trick here with the 5 Card Hand and 7 Card Hand payouts
Avoid the 5 – and 7 Card Hand bets at all times, even if the 5 Card Hand is the only bet that offers 1,000 to 1 odds, with a Royal Flush.
And with a 7 Card Hand, a Royal Flush will still payout 500 to 1.
Evolution Gaming pulls the classic Side Bet trick here: entice the player with the possibility of a higher payout, then she or he will forget how big of a disadvantage there is in the payout rate.
Nice try Evolution Gaming, but we are not falling for it.
Where can you find Side Bet City?
Side Bet City is found at all reliable Evolution Gaming casinos. One of these Evolution Gaming casinos is Casumo, which is a very reliable online casino, with a massive selection of slots and live casino games.
You can play Side Bet City at Casumo with a 200% bonus up to $€50 plus 200 free spins.