Serengeti Kings is a beautiful, somewhat unusual Netent slot.

This video slot is all about saving lion and panther symbols, which are all put back on the reels at the end of the spinning session. Besides lots of winning combinations, you can also earn extra wilds and big multipliers.
The game takes place on the African Serengeti forest landscapes and savannahs. This is where the lion, the king of the jungle, rules together with his friend, the black panther.
Serengeti Kings looks gorgeous: stunning views and beautifully designed wild animals.
The RTP, Variance & Maximum win of Serengeti Kings
The return to player of Serengeti Kings is 96.2% in the main game, and either 96.1% or 96.7% in the Buy Free Spins Feature (96.1% with 3 scatter symbols and 96.7% with 4 or 5 scatter symbols). So it is not Netent highest or worst RTP slot.
According to Netent, the slot has a high variance. This implies that wins exceeding 1,000x the bet are possible. You can compare the volatility of Serengeti Kings to slots as Vikings, The Wishmaster or Joker Pro.
Netent has not published the official maximum win, but we expect it to be around 3,000x to 5,000x the bet. It is at least 1,300x the bet if you manage to get a screen full of wild symbols, but with the multipliers that the wild symbols can have, the maximum win can easily be more than that.
Most important for you to know is that it is possible to win some massive prizes with this slot!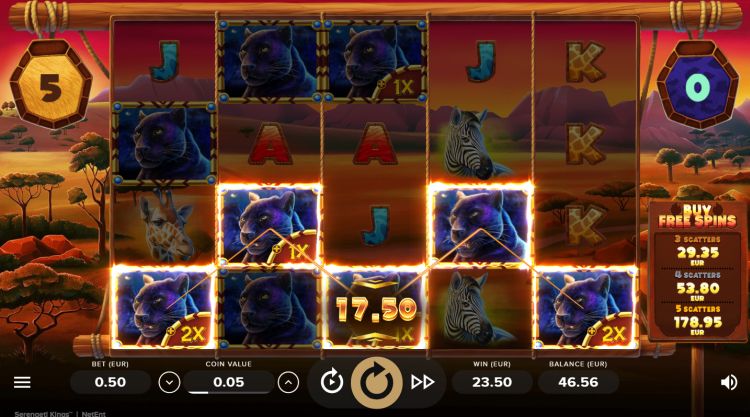 Serengeti Kings gameplay and features
You play with 26 fixed winning lines, divided over 5 reels with 3 rows of symbols.
Betting is done with a fixed amount per spin, which starts at a modest $€ 0.10 per spin and runs up to $€  100 per spin.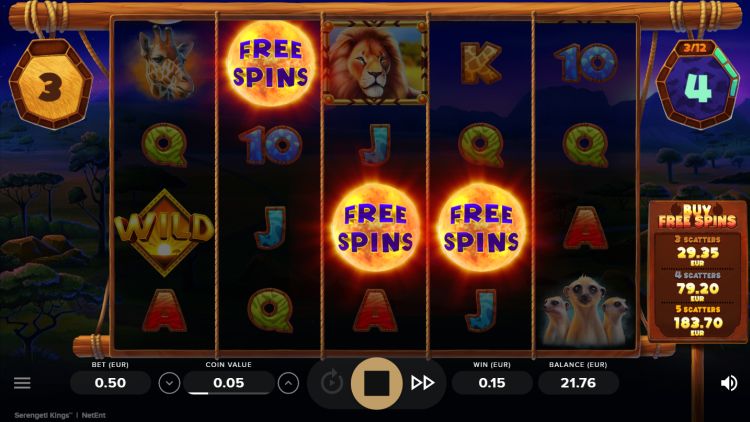 Lion Spins and Panther Spins
Each game consists of 24 spins. First, you play 12 Lion Spins and then it is time for 12 Panther Spins.
During the spins, all the lion and panther symbols are saved. At the end of the 12 spins, all collected symbols are placed back on the reels. If you are in the Lion Spins mode, all lions are placed on the reels, and during the Panther Spins, all panthers are placed on the reels.
You also get extra multipliers when a lion drops on a lion or a panther lands on a panther.
If a lion lands on a panther, this symbol changes into a wild.
It is clear: the more lion or panther symbols you have saved, the higher the final payout can be.
Note of caution – If you change your bet during the 24 spins, the spin session will be reset, and you may lose any previously saved lions or panthers. Ahum, we know it, we have been there. So if you are on a roll, that would be a pity.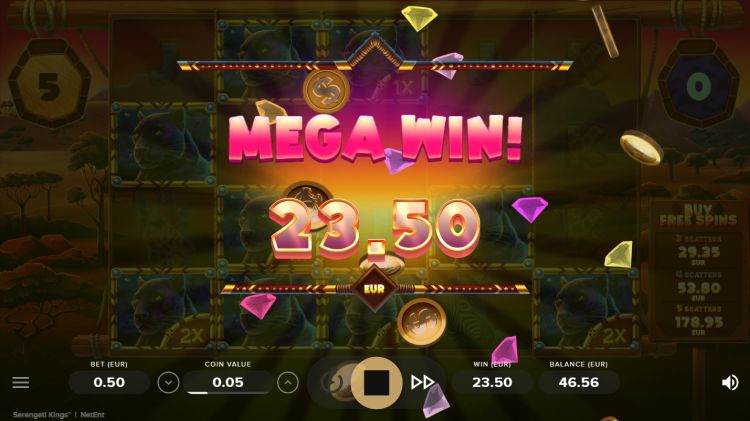 Symbols & payouts
The wild symbol emerges when a lion drops on a panther or the other way around. It replaces all other symbols except the scatters. Besides, the wild is the only symbol with a high payout for a 5-of-a-kind: 500 coins.
Lions and panthers are the premium symbols, but in general, they don't yield that much: 50 coins for a 5-of-a-kind.
You need wilds and multipliers during the final spin to grab a seriously big payout.
All other symbols only pay out poorly and are merely filler.
Free spins bonus
You can buy the free spins bonus directly by using the Bonus Buy option.
The amount you have to pay depends on how many lions and panthers you have already saved. After all, the more of these symbols you have, the bigger your lead will be when you enter the bonus round.
There are three options:
3 scatters: start the 12 free spins without lions or panthers in the meters.
4 scatters: 12 free spins with the current meter readings as a starting point
5 scatters: 12 free spins with the current meters +5 extra symbols
Sometimes you will see some flames appear in the Bonus Buy option. This means that the bonus feature is now at its hottest (most lucrative), and the price-quality ratio is optimal.
Ultimately, even with this Netent slot, flames or not, the online casino has a built-in house edge, but still, these are attractive extra tools.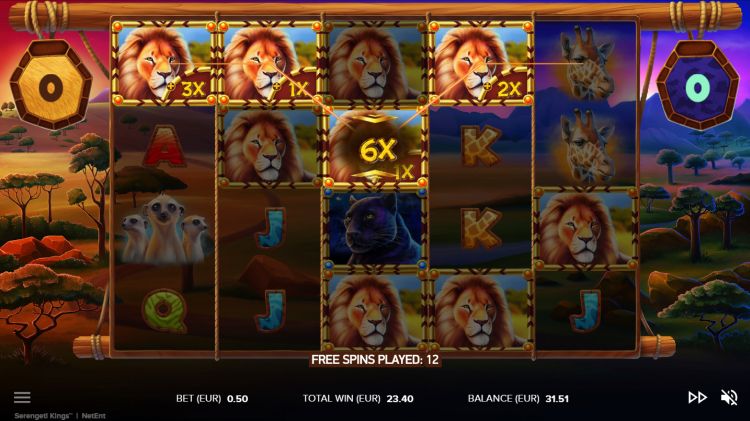 Our verdict on the Serengeti Kings slot?
Serengeti Kings is a somewhat unconventional slot, which is only about saving up premium symbols and hoping for a lot of wilds and multipliers.
It's something different, and we always respect slot providers who want to try something new.
3.7 out of 5 stars
Where can you find Serengeti Kings?
The Serengeti Kings slot is found at all reliable Netent casinos. One of these Netent casinos is Casumo, which is a very reliable online casino, with a massive selection of slots.
You can play the Serengeti Kings slot at Casumo with a 100% bonus up to $€300 plus 20 free spins.
Play Serengeti Kings at Casumo with a 100% bonus up to $€ 300