Scarab Treasure is an Amatic video slot that falls under the category "How on earth did they come up with something like this!?".

With only one reel where you only spin one symbol per turn, the casino game developer Amatic brought a unique video slot to market.
And yet at times in the game, it is super exciting. What they have done well with Scarab Treasure is ensure you are given a choice with every single turn.
You can choose to let your winnings sit and grow, with the risk of losing it all when the scorpion appears. Or you can collect your prize money after every spin.
You wouldn't think it, but with only five symbols you can earn some sizeable coin with this video slot. We had never played a slot with only one reel and were wondering if Amatic was successful in keeping the boredom at bay during the time spent playing the Scarab Treasure video slot.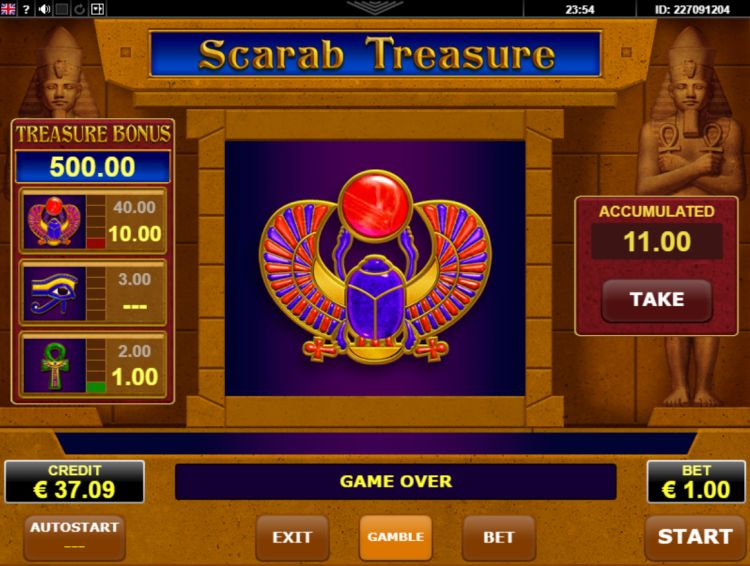 How does Scarab Treasure work?
The Scarab Treasure video slot consists of only one reel, as we mentioned, and every spin only one symbol appears on the said reel. The advantage is that you don't have to create complicated combinations that each have different values. Either you spin a symbol with a prize, or you have a spin that is worth nothing, it is that simple in this game. The minimum bet is $€ 0.10, and the maximum is $€ 10, per spin.
In total, the game has five ancient Egyptian symbols dating back to the time of the pharaohs. Three of these symbols are the win symbols consisting of the holy beetle or Scarab, the eye of the sun god Ra and the cross of life or Ankh. Every time one of these three symbols appears on the reel, you win money, and it is put in a piggy bank. You can then take out your cash or save it up.
The Scarab Treasure video slot has a payout rate of at least 96%.
Symbols and payouts
The Scarab symbol is worth between 10 x and 350 x your bet. Spinning the eye of the sun god Ra will get you between 3 x and 35 x your stake. And finally, the Ankh symbol. If you manage to make that appear on the reel, you will earn between 1 x and 5 x your bet.
A symbol that you would rather not see drop on the reel is the scorpion. If you spin that one, you lose all the money saved up in your piggy bank. This makes it exciting to choose between saving your winnings from a spin or grabbing your money to prevent that the scorpion spoils your party.
There is also the Wave symbol. When you spin it, you don't win a prize, but you also get to keep the money that you saved. The neutral wave symbol lets you play another round without it having any effect on your savings.
What you can also do with the money you win from a spin is risk a little wager in the Gamble feature. By picking the correct card symbol or the right colour, you can double or even quadruple your money.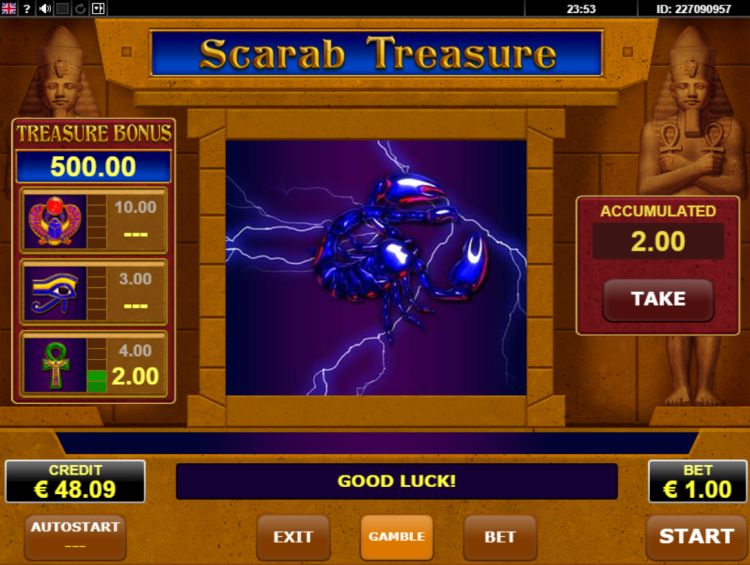 The Treasure bonus feature
Another reason to carefully consider to save up your winnings and not collect them after a winning spin is the Treasure bonus feature. This is activated when you manage to spin all symbols five times without the scorpion appearing on the reel. All the prizes you have won are then paid out, and the piggy bank counter is reset.
The jackpot of the Treasure bonus feature is worth 500 x your bet. Impressive!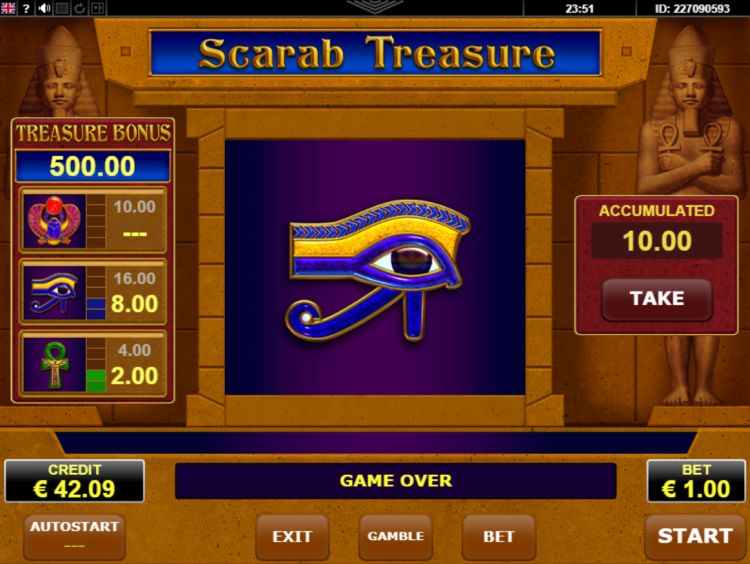 Our verdict on the Scarab Treasure video slot
The Scarab Treasure video slot was a delightful surprise, with a fun theme and fitting symbols.
No one here really thought that a video slot with only one reel and five symbols could create this much excitement.
We also didn't expect such a unique slot from the casino games developer Amatic, as their video slots are usually pretty basic.
The prizes you can win when you save up your money make it so you can almost not resist the temptation NOT to take out your winnings with the risk of losing it all if the scorpion symbol drops.
But if you don't take that risk every once in a while, you will never get that impressive jackpot of 500 x your bet from the Treasure bonus to fall into your lap.
You should seriously try out the Scarab Treasure video slot, just don't get bitten by the scorpions.
4 out of 5 stars.
Where can you find Scarab Treasure?
The Scarab Treasure slot is found at all reliable Amatic casinos. One of these Amatic casinos is Slots Million, which is a very reliable online casino, with a massive selection of slots.
You can play the Scarab Treasure slot at Amatic with a 100% bonus up to $€ 100 plus 100 free spins.
Play Scarab Treasure at Slots Million with a 100% bonus up to $€ 100