Riddle Reels: A Case of Riches, which we're going to conveniently shorten to Riddle Reels in this review, is a very enjoyable Play'n GO crime slot.

It's funny that Netent also released the Cash Noire murder mystery slot. The latter was a bit more sinister than Riddle Reels, which keeps it a bit lighter.
It's a bit of a "Whodunnit?" puzzle in the style of the Cluedo board game.
There are murder weapons, and there are suspects, but who committed the murder?
That's your challenge.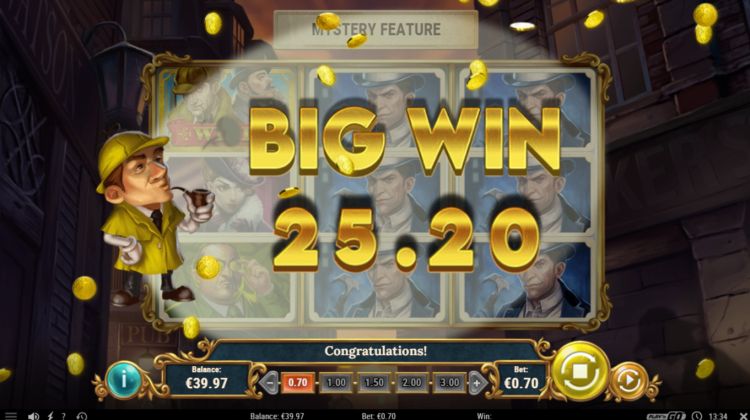 Riddle Reels gameplay and features
The Riddle Reels video slot has a simple setup with 3 reels, 3 rows of symbols and 9 paylines.
Betting starts at only 10 cents per reel and runs up to $€ 100. It is the standard betting range that Play'n Go maintains.
The theoretical payout rate is typically 96.22%, but beware: there are versions in circulation with significantly lower payout rates.
Therefore, always check the game rule before playing Riddle Reels with real money.
In terms of volatility, Riddle Reels is a low to medium variance slot. There are many mini-features and also relatively many main bonus features, but winning big prizes? Forget it.
Play'n GO states that you can win 5,000 x the bet on Riddle Reels. That seems grossly exaggerated to us. If you manage to win over 200 times the bet, then you're a lucky dog, believe us.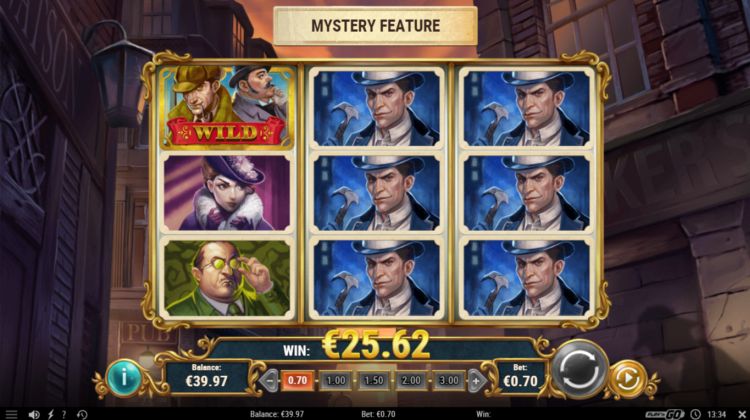 Symbols and payouts
The duo Holmes and Watson is the wild symbol and can contain multipliers up to x3. If you are fortunate enough to spin three wilds on a payline with the x3 multiplier to each wild, you take a crisp 324 x the total bet in prize money home.
Three regular wilds in a row yield 12 x the bet.
There are also four murder suspects. These are the premium symbol that will award you between 2 x and 12 x the total bet with three of the same. The aristocrat with the top hat and the blue background is the most valuable, so keep an eye on him.
The low symbols consist of the four possible murder weapons: a pistol, a knife, a key and a noose. This is a welcome change apposed to the usual card symbols. Three of the same three symbols are worth between 0.4 x and 1 x the total bet.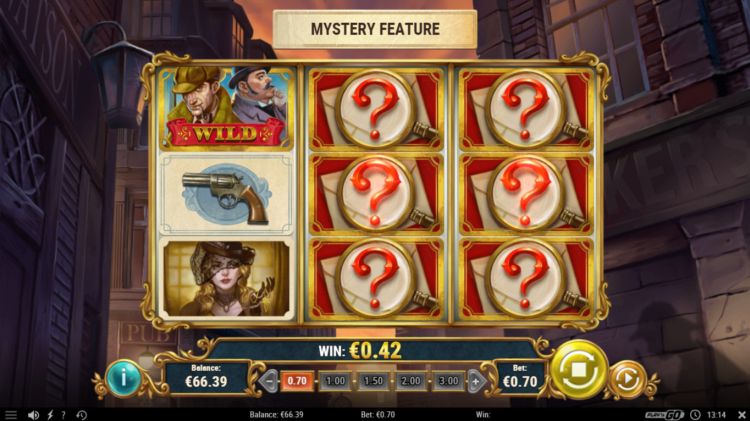 Respins and mystery symbols
The question mark symbol is the scatter.
If you spin three scatters right away, you win the main bonus.
If you miss one scatter, the reels with the two scatters are held, and you get a respin.
Now two things can happen:
You spin the third scatter and make your way into the bonus round.
You don't spin a third scatter; then, you win the consolation prize.
The consolation prize consists of two full reels with mystery symbols. Hopefully, you have hit a wild on the other reel (preferably with a multiplier), so you always get a payout.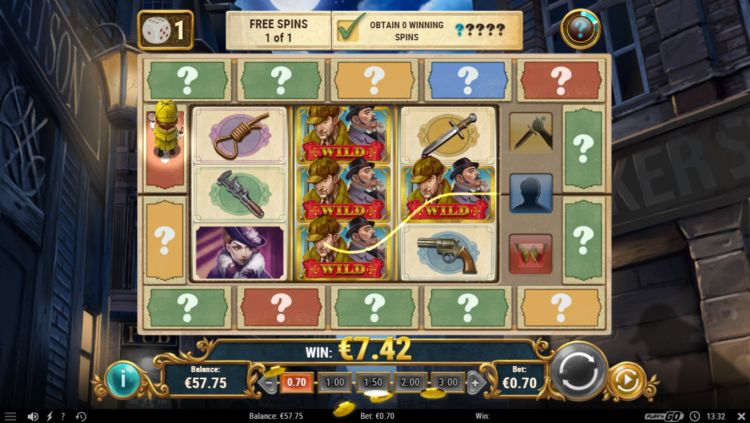 Case of Riches Bonus Feature
The main bonus is played on a board game. You get 4 rolls of the dice, and each time you get mini assignments, which can earn you additional clue points.
The more clue points you collect, the better your odds of landing the grand prize by ultimately revealing either the murder weapon or the suspect.
The mini assignments consist of small sets of free spins (1 to 3), where you have to spin a minimum number of winning spins.
If you manage to do so, you earn clue points, and the blue box on the top right gets filled.
To help you complete the assignments, you'll get an extra booster on most coloured boxes of the board:
Yellow: All weapons are the same
Red: You'll get a reel with wilds.
Blue: All murder suspects are the same
Only if you land on Green, you don't get an extra booster. These are the boxes to avoid.
If you don't have any more rolls of the dice, the hand/arrow on the clue meter will be spun. If it lands in the blue area, you win a mega spin. If it lands outside the blue area, the bonus is over.
So the more clues you have collected, the bigger the likelihood that you make a profit.
The prize is attractive: you get a full screen with identical symbols, with the middle reel always consisting entirely of x3 wilds.
But there's more: you start with a new board game, where you can try to solve another mystery.
Our verdict on Riddle Reels
The Riddle Reels: a Case Of Riches game has become a hugely entertaining Play'n GO slot.
It's not a video slot you play to get rich: that's just not going to happen. It is all about playtime.
But if you want to play a slot where fun and entertainment come first, then Riddle Reels is right up your ally.
4 out of 5 stars
Where can you find Riddle Reels?
The Riddle Reels slot is found at all reliable Play'n GO casinos. One of these Play'n GO casinos is Slots Million, a very reliable online casino, with a massive selection of slots.
You can play the Riddle Reels slot at Slots Million with a 100% bonus up to $€ 100 plus 100 free spins.
Play Riddle Reels at Slots Million with a 100% bonus up to $€ 100