More often than not, sequels of slots (or movies) are nothing more than a mediocre new version of the original.

We were a bit concerned when we heard about Reel Rush 2, Netent's a new release.
The original Reel Rush slot had innovative features and gameplay. Sometimes exciting and at other moments as frustrating as hell. Was Reel Rush 2 also going to be a poor imitation of the first version?
We are more than glad to see that this was not the case. Netent kept some excellent features intact (the re-spins mechanism with and the expanding playing field), but also managed to introduce some spectacular new features.
For starters, there are eight different boosters, which can appear randomly during each spin.
You are also saving tokens in the base game, which allows you to access the Super Free Spins. If that was not enough, there is also a gamble feature, and alternatively, you can buy tokens to get an upgrade from the Free Spins to the Super Free Spins.
And to finish it all off: in the Super Free Spins Bonus, you have a progressive multiplier which is active and can become massive, leading to even more massive wins.
What has, also, not changed are the wondrous and brightly coloured symbols and background. It reminds us of the wonderful world of Super Mario.
To summarise: a lot has remained the same and also a lot has changed in the new version of Reel Rush.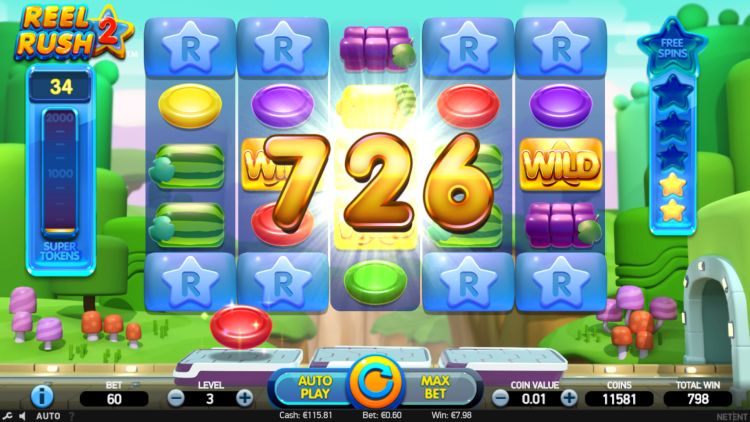 Gameplay and features of the Reel Rush 2 slot
Anyone who has ever played Reel Rush knows how this game works. There are no paylines, but the win all ways mechanism is active.
You start with a small playing field of 1 x 3 x 5 x 3 x 1 in size, so you have 45 ways to win.
After every winning combination, the playing field expands, as the corners of the playing field are un-locked. In the meantime, you get a free re-spin.
Then the nervy bit starts: as long as you keep getting a winning combination, the playing fields continue to expand. So far, so good.
However, if you lose, you have to start from scratch again, and the entire playing field is back to where it began.
If you manage to unlock the entire playing field, it becomes 5 x 5 x 5 x 5 x 5 in size. Now you have 3,125 ways to win.
But more important, once you manage to clear the entire playing field, you get access to the Free Spins Bonus.
Bets range from $€0.20 to a maximum of $€40 per spin.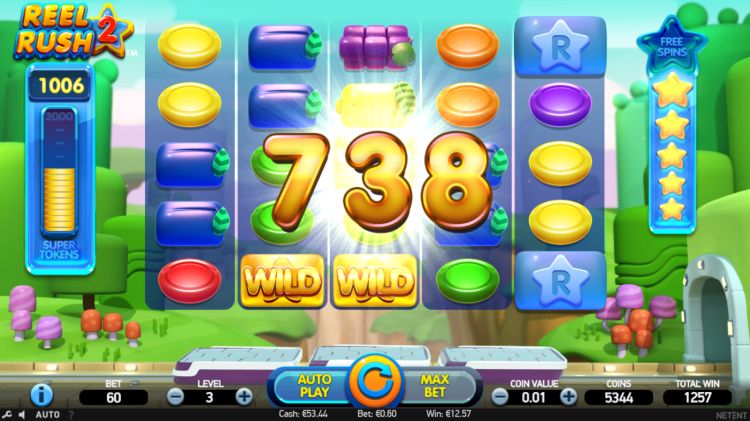 What are the theoretical RTP, the variance and the maximum win of the Reel Rush 2 Slot?
If you play the "normal" Free Spins Bonus, the theoretical payout percentage is a bit disappointing: 95.53%. However, if you choose to play the Super Free Spins, the RTP will skyrocket to a magnificent 96.58%.
Our advice? Always go for the Super Free Spins. Below we explain how you get there.
The maximum win is capped at 500,000 coins. 20 coins are equivalent to 1x the bet. So the maximum win could, in theory, be an incredible 25,000x the bet.
Netent has qualified this slot as a medium/high variance slot. It implies that wins in the range of 1,000x to 2,500x are undoubtedly possible. Maybe not the life-changing wins of say 5,000x the bet or more.
If you manage to hit a win of this magnitude, you are indeed extremely fortunate to do so. Will you share with us the good news if you do?
Symbols and payouts
Roughly speaking, there are three kinds of symbols:
Wild symbols: these replace all other symbols.
Fruit Symbols: These are the premium symbols
Candies: These are the low symbols

Eight different boosters
The boosters give you a helping hand (and believe us, you need it) towards that attractive Free Spins Bonus.
These move by on a conveyor belt, during every spin. You can receive up to 3 boosters.
The boosters are almost indispensable if you want to be successful. You have:
Extra wilds
Additional multipliers
Symbol Upgrades
A shooting tank, which enlarges the playing field (this booster matters)
A heart that is a real lifesaver
Extra tokens: Earn extra tokens for the Super Free Spins.
Extra free spins
Additional progressive multipliers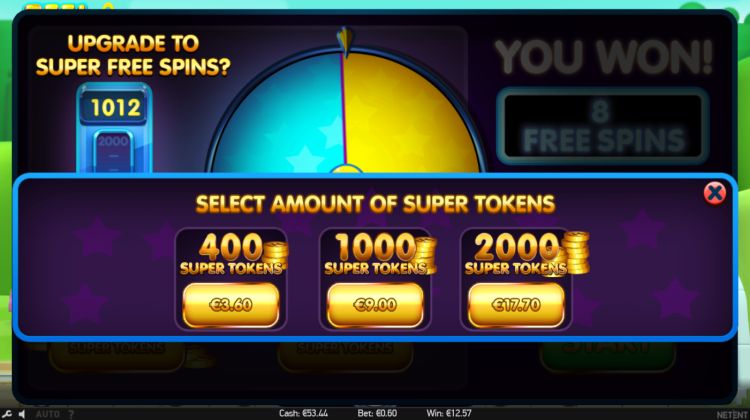 Super Tokens
After every winning spin or with the help of the Extra Token booster, you get to save coins, called Super Tokens. These are collected on a meter, you see on the left of the screen.
You can use these Super Tokens, once you have won the free spins bonus.
In the case you managed to save 2,000 Super Tokens, you automatically get access to the Super Free Spins Bonus when you trigger the free spins.
Below we explain the difference in the Free Spins Bonus and the Super Free Spins Bonus.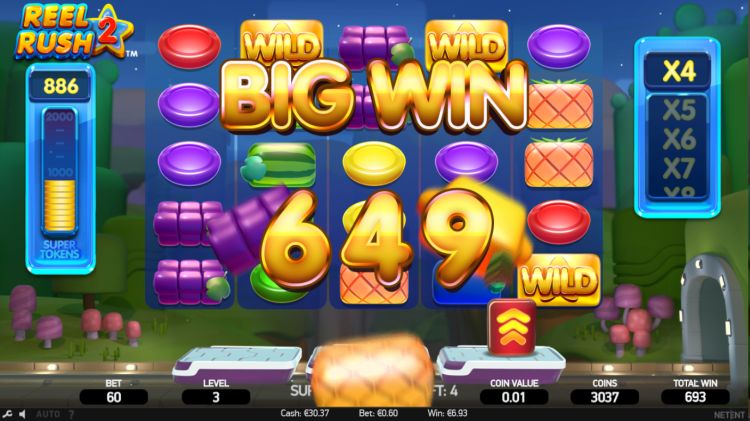 Free Spins Bonus versus the Super Free Spins Bonus
Will you be able to spin 6 consecutive winning spins? If you do, you get access to the Free Spins Bonus of 8 free spins. You play all free spins on the full playing field (so with 3,125 ways to win) and also here, you get the same boosters as mentioned above.
But wait, there is more!
You also have the option to get an upgrade to the Super Free Spins. During the Super Free Spins, an additional progressive multiplier is active. If you are looming for the more serious wins, this is what you need.
How can you get this upgrade?
You can get this upgrade by using the 2,000 super tokens (if you managed to collect these). It works a bit like air miles; you can use the tokens to get an upgrade from economy to business.
Alternatively, if you have not managed to collect the 2,000 tokens, you can have a gamble in the Gamble feature.
It is also possible to buy Super Tokens.
As explained above, if you choose to play the Super Free Spins, the game becomes more interesting. Not only because of the increased variance and potentially much more massive wins, but also because of the improved RTP (to 96.58%).
Our verdict on Reel Rush 2
In the beginning, you may be a little overwhelmed as you need to figure out how the boosters, the Super Tokens and the (Super) free spins work. However, you will soon be familiarised.
The reward is that you get a to play a stunning video slot, with a lot of depth and variety.
The option to buy the upgrade to Super Free Spins or to earn these by filling the Super Token meter works very well. This way you always get to play the Super Free Spins, if you want to.
All the newly introduced boosters provide both relief and frustration. Sometimes they help you turn a non-winning combination into a winning one and help you to keep your chain of consecutive wins intact.
At other times, though, you only need one more winning combination, to get the access to the (so desired) free spins. If you get 2 "wrong" boosters and don't manage to get the final winning spin, you have to start all over again.
If you find yourself throwing your mouse on the floor out of anger and disgust, believe us, it is entirely human.
4 out of 5 stars.
Where can you find Reel Rush 2?
The Reel Rush 2 slot is found at all reliable Netent casinos. One of these online casinos is Slots Million, which is a very reliable place to play your favourite slots for real money.
Play Reel Rush 2 with a 100% bonus up to $€ 100 plus 100 free spins.