Monty Python's Life Of Brian is one of the funniest and most controversial movies ever made. 

This utterly absurd movie is about the silly and somewhat naïve Brian, who is wrongly perceived as the Messiah. And to immediately answer the most pressing question: Monty Python's Life Of Brian is fun; a lot of fun.
Chock a block full of absurd humour, film clips, curiosities and especially: a whole lot of different bonus games. I counted no less than 10.
Romans, stoning, slavery and crucifixions: everything is satirised in typical Monty Python fashion. And as far as Brian is concerned, he is not the Messiah; he is just a very naughty boy!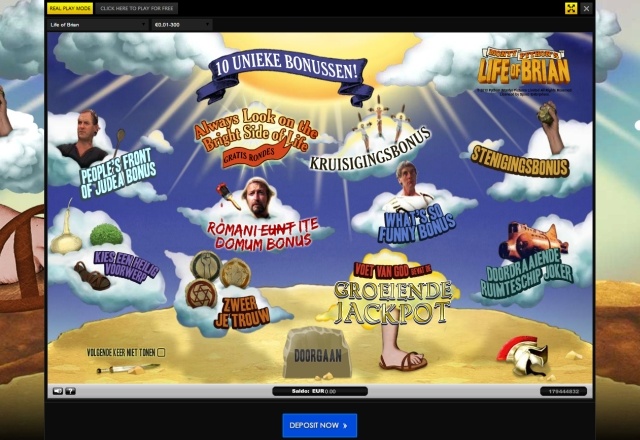 How does Monty Python's Life Of Brian work?
Life of Brian uses a standard setup with 5 reels with 3 rows of symbols per reel. The minimum number of paylines is 30, which brings the minimum bet to an acceptable $€ 0.30 per spin. This can go up to $€ 300 per spin for the big-time players amongst us.
The graphics of the game are in the well known Monty Python style, something that will appeal to the many fans.
The bonuses drop often and are very varied: there are no less than 10 different bonuses, and a number of them can drop randomly (such as the progressive jackpot), while the rest comes your way via scatter symbols.
What have the Romans ever done for us? They gave us the bonus round. Oh yeah.
The Monty Python's Life Of Brian slot has a fantastic arsenal of bonus games. Among other things you can win:
Stoning Bonus: the ultimate family entertainment: stone your favourite character and win credits. Not sure if it's a man or a woman? Pull the beard and earn extra credits!
People Front of Judea Bonus: here, the hilarious scene with the immortal line of " What have the Romans ever done for us?" is replicated. Choose as many things as possible before the bonus ends and win credits.
What's so funny Bonus: Choose a guard and see how long he can refrain from laughing. The longer it takes before he bursts out laughing, the more money you win.
Always Look On The Bright Side Of Life: win free spins and ever-increasing multipliers.
And many, many more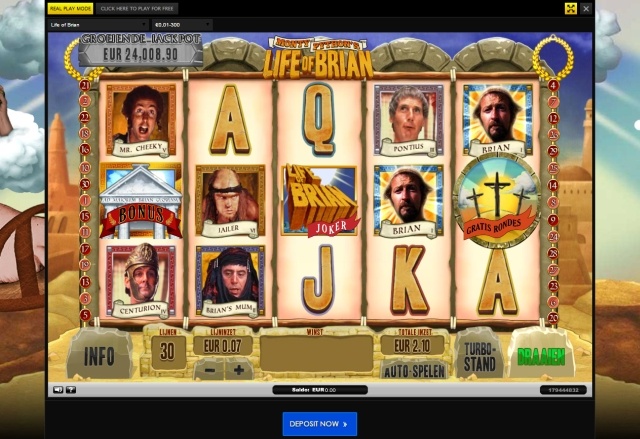 Our verdict on the Monty Python's Life Of Brian slot

Monty Python's Life of Brian is a brilliant movie, and the same can be said about this slot. Funny, entertaining and unique.
Four reasons to love the Monty Python's Life Of Brian slot:
The graphics are fabulous
The most amusing and most fun bonus rounds that you can find in a slot
Even with small bets, you can win excellent payouts
Full of surprises and games within the game. So anything that will extend the wave of fun and excitement you will be riding during the game.
Every Monty Python fan owes it to themselves to try out this slot at least once!
4.5 out of 5 stars
Where can you find Monty Python's Life Of Brian?
The Monty Python's Life Of Brian slot is found at all reliable Playtech casinos. One of these Playtech casinos is Slots Million, which is a very reliable online casino, with a massive selection of slots.
You can play the Monty Python's Life Of Brian  slot at Playtech with a 100% bonus up to $€ 100 plus 100 free spins.
Play Monty Python's Life Of Brian at Slots Million with a 100% bonus up to $€ 100