Evolution Gaming is the absolute king of the live casino and manages to surprise us time and again with new concepts.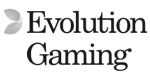 They already brought us, besides the normal live variants of the popular table games, new concepts like Lightning Roulette and Live Dreamcatcher.
Especially Lightning Roulette is extremely popular: the possibility to win 500 x your bet with a Roulette game has proven irresistible for a great many players.
At the ICE Gaming show in February of 2019, we were already shown a sample of what else was coming down the pipe in 2019. We can be expecting a Live Dice game and a Live Deal or No Deal game, among other things.
But one of the biggest things to catch our eye was Monopoly Live: Dreamcatcher Edition, a cross between Dreamcatcher and the famous board game by Hasbro.
With Monopoly Live it is possible to win a bonus game (if you bet on it), multipliers, extra throws, Chance cards and Community Chest cards. And the regular Money Wheel is spinning along of course, with which you can win money prizes.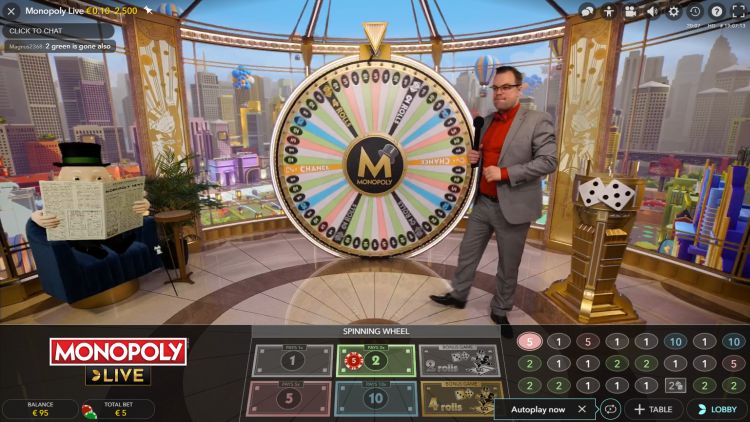 How does Monopoly Live work?
Monopoly Live is a live casino game. That means that a living, breathing dealer/ show master is in the Evolution Gaming studio and guides the game, while also chatting along to let the game continue smoothly.
The big wheel is central to the game and 54 spaces. It is up to you determine on which slot the wheel will stop after the dealer gives it a good spin.
You can bet on the following numbers: 1, 2, 5 and 10. You can also wager on two bonus games. The payout of the numbers corresponds with the number on the space. Besides that, you get your stake back with a winning turn.
Say you put down $€ 5 on number 5 and the wheel ends on that number, you will then earn 5 x 5 + 5 = $€ 30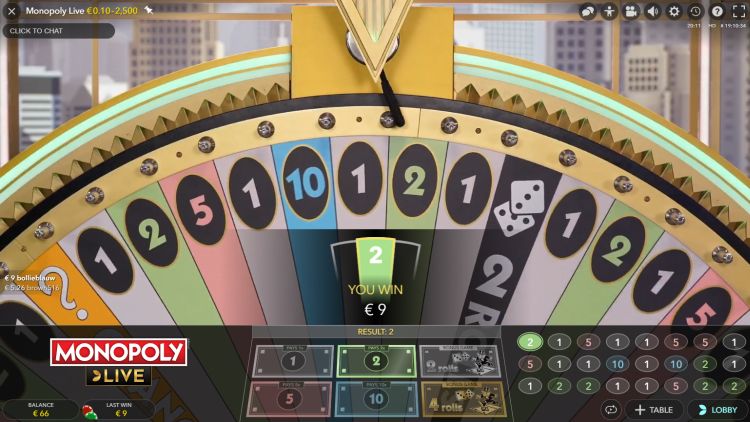 An overview of the possibilities, including the payout rate (RTP):
---
| | | |
| --- | --- | --- |
| Payout : | How often? | RTP : |
| 1 | 22 | 92.88% |
| 2 | 15 | 96.23% |
| 5 | 7 | 91.30% |
| 10 | 4 | 96.02% |
| Chance | 2 | Pays cash or multiplier |
| Bonus with 2 throws | 3 | 93.90% |
| Bonus with 4 throws | 1 | 93.67% |
---
You can start betting as low as $€ 0.10, and that goes up to a maximum of $€ 500, per spin.
It is possible to bet on several choices at the same time, but the payout rate tells you it is best to only put money down on the numbers 2 and 10. These pay out more than 96 %, while the numbers 1 and 5 awards you well below that, at around 92%.
Win multipliers or cash prizes with the Chance card
If you land on Chance, you receive the famous Chance card. This gets you a money prize or a multiplier. The multiplier is applied to the next turn, even if that is in a bonus game.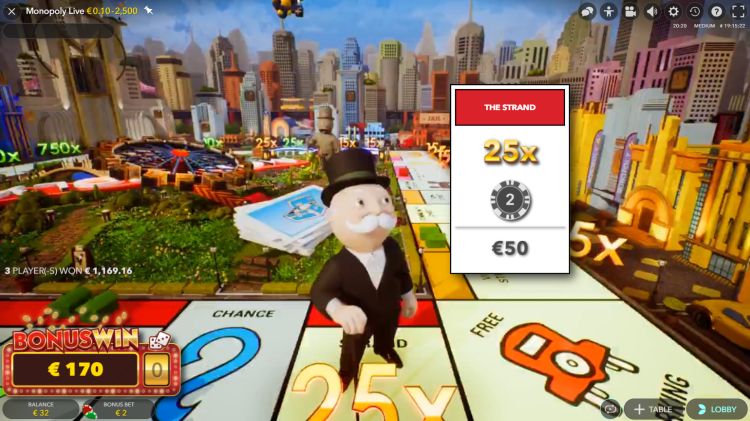 Bonus game: win up to 4 throws
The Monopoly bonus game makes this game unique in comparison to every other Money Wheel game.
Evolution Gaming has designed a brilliant bonus game, incorporating all the elements of the board game we know and love so well.
Mr Monopoly takes you along and also collects the prizes you win. Depending on which bonus you won, you can throw 2 x or 4 x. The street that you land on determines the amount of money you earn. And just like in the real game: the further up the board you get, the bigger the prizes.
It gets even more interesting when a multiplier is spun, before winning the bonus round: this multiplier is applied to all winnings during the bonus feature.
It is possible to win extra throws by throwing doubles. Every double throw gets you a money prize and an extra throw.
Just like in the real game, there are a lot of other ways to make money or to lose it:
On some streets, hotels are being built, for extra big prizes
Chance or Community Chest cards are worth money prizes or fines
If you end up in jail, you must throw doubles to be released
Taxes lower your winnings by 10% or 20%
It is all very entertaining in any case, especially if you manage to throw quite a few doubles or if you start the bonus round with a multiplier.
Our verdict on the Monopoly Live video slot
Monopoly Live has ended up an insanely fun game, that will undoubtedly become extremely popular.
It adds an interesting dimension to the otherwise slightly boring Money Wheel game, and it can earn you some very nice payouts through the bonus feature and the possible multipliers.
Pay close attention to the bets you place: there are significant differences in the payout rates. Certainly, avoid the numbers 1 and 5 at any price, both of them have an extremely high house edge.
The Monopoly bonus game has been made super-duper and gives you that feeling of the old Monopoly board game you used to play.  One advantage: in the Monopoly Live version you don't need to deal with those stubborn aunts that refuse to trade or swap and cheating brothers.
4 out of 5 stars.
Where can you find Monopoly Live?
The Monopoly Live slot is found at all reliable Evolution Gaming casinos. One of these Evolution Gaming casinos is Casumo, which is one of our favourite online casinos.
You can play the Monopoly Live slot at Casumo with a 200% bonus up to $€50 plus 200 free spins.