Lucky Lady is a classic video slot that keeps things simple.

Lucky Lady is all about simply spinning those reels and hoping for a nice payout or even landing that big jackpot.
In terms of looks, iSoftbet opted for a retro style. Lucky Lady is very similar to the mechanical three-reel slot machines you will encounter abundantly in Las Vegas casinos.
There is a clear demand for these more simple online slots, which don't require too much thought and complex gameplay.
Because iSoftbet finally seems to be gaining a bigger foothold in more and more online casinos, they have been producing better and better financial results year after year.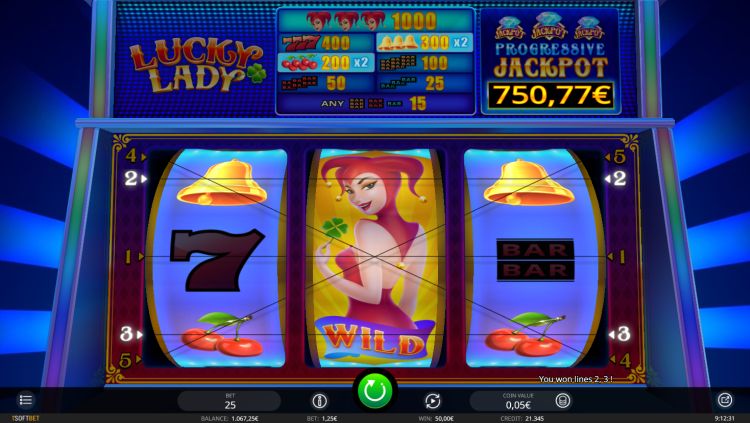 How does the Lucky Lady slot work?
Lucky Lady has 3 reels with 3 rows of symbols. There are 5 fixed paylines.
You always play with 5 coins per payline. The coin value starts at $€ 0.01 and can reach up to $€ 1.
This results in a minimum bet of $€ 0.25 and a maximum bet of $€ 25, per spin.
Variance and payout rate
The variance of Lucky Lady is somewhere between low and medium. The maximum (non-progressive jackpot) payout is only 5,000 coins.
Lucky Lady isn't very impressive when it comes to its payout rate of 95.56%.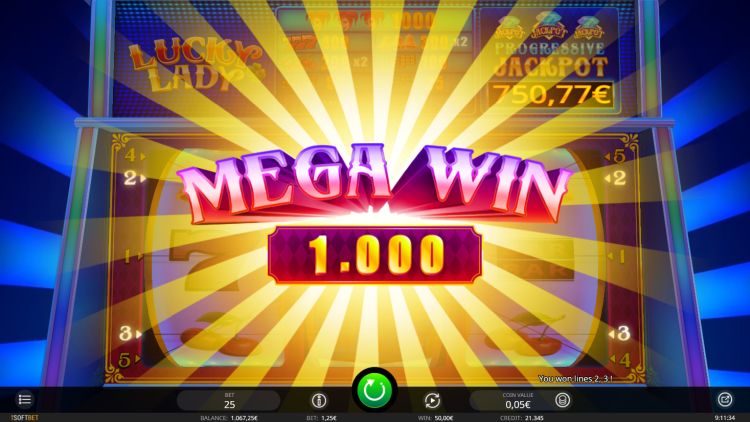 Symbols and payouts
A retro-style video slot goes hand in hand with classic fruit slot symbols.
The wild symbol (the joker) is worth the most: 1,000 coins for 3-of-a-kind. Because the wild is stacked, you can spin a full screen of wilds which yields you 5,000 coins.
If you spin 1 or 2 stacks of wilds, then you activate a 2 x multiplier.
The red 7's are worth 400 coins for 3-of-a-kind.
Hitting the bells and cherries also bring you quite some riches: 300 coins and 200 coins for 3 identical symbols, respectively.
Of course, the Bar symbols cannot be missed either:
Triple Bar: 100 coins
Double Bar: 50 coins
Single Bar: 25 coins
A combination of different Bar symbols: 15 coins
Progressive jackpot
Three diamonds earn you the progressive jackpot.
Strangely enough, the amount of the progressive jackpot depends on your total bet. The more you bet, the higher the progressive jackpot. The chance of winning it remains the same, though.
Other progressive jackpot slots like Mega Moolah operate the other way around: the size of the jackpot remains the same, but if you bet more you are more likely to win the jackpot.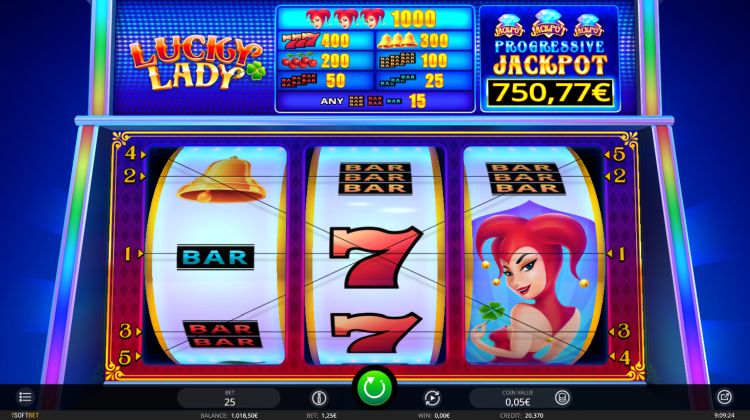 Our verdict on the Lucky Lady video slot?
We love this retro approach, as a tribute to the classic slot machines.
It's a pity the slot has no bonus feature. A free spins bonus or a mystery bonus would have done wonders to create more suspense.
Now it's just a matter of endless spinning and hoping for a full screen of wilds or that progressive jackpot.
If you are into these kinds of slots, you'll have a lot of fun with Lucky Lady.
If you're looking for more variety, you might want to try another iSoftbet slot.
3 out of 5 stars.
Where can you find Lucky Lady?
The Lucky Lady slot is found at all reliable iSoftbet casinos. One of these iSoftbet casinos is Slots Million, which is a very reliable online casino, with a massive selection of slots.
You can play the Lucky Lady slot at Slots Million with a 100% bonus up to $€ 100 plus 100 free spins.
Play Lucky Lady at Slots Million with a 100% bonus up to $€ 100