Honey Rush is one of those typical high variance slots that only Play'n GO can get right: avalanche symbols, a Rush Meter and cluster pays.

If you've ever played Reactoonz, Gemix, Moon Princess or Tome of Madness, the format of Honey Rush will look familiar to you.
There are no paylines in this game. Instead, you win by forming clusters of the same symbols. You get a cluster if you have at least five connecting (touching) symbols.
The clusters (which are winning combinations) disappear and make way for new symbols, so you can continue to form winning combinations over and over again (this is the avalanche mechanism).
As if this wasn't enough, you can also earn extra features along the way, which we explain below. The further you progress, the more you can win.
Honey Rush is played (it's all in the name) in a honeycomb (or beehive or maze). The honeycomb has a characteristic shape that is created by the hexagonal cells. The hard-working, busy-bees have made these cells out of wax.
The worker bees do most of the hard work, and the queen oversees that everything happens orderly.
Despite the adorable character of this slot, it is by no means a softy. You can land some enormous wins with Honey Rush. The maximum win per spin is an incredible 9,000 x the total bet.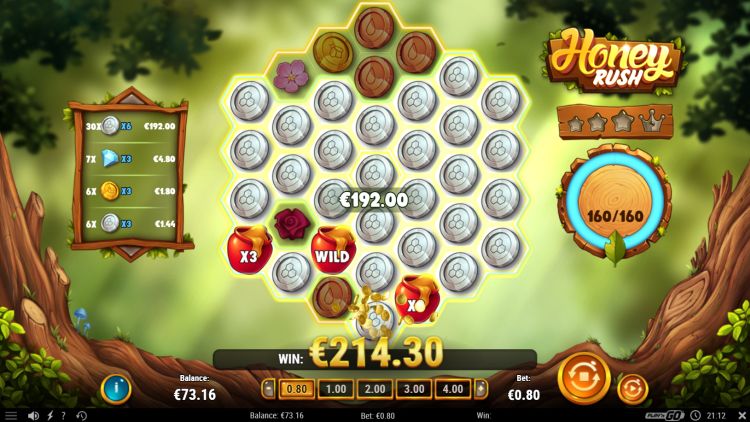 Gameplay and features of the Honey Rush slot
As just mentioned, this game has no paylines. You get winning combinations if you manage to spin clusters of 5 or more of the same symbols on the hexagon-shaped playing field. This field has 37 symbols in total (4 + 5 + 6 + 7 + 6 + 5 + 4) symbols.
The larger the cluster, the higher the price. The maximum win is a spectacular 200 x the total bet. In that case, you need to spin a group of 35+ diamonds. The gold, silver and bronze coins are the other premium symbols. You get a win between 50 x and 100 x the bet if you manage to spin a cluster of at least 35 of the same symbols.
Sometimes the Worker Colony Feature is activated after a non-winning spin. That is potentially good news, as you will receive a free winning cluster of 7 to 15 symbols.
The minimum bet is $€0.20 per spin, and the maximum bet is $€100 per spin.
What are the theoretical RTP, the variance and the maximum win of the Honey Rush slot?
The default payout percentage is 96.5%, which is fine. Note: some online casinos have lower payout rates for Play'n Go slots. So always check the rules before playing with real money.
Play'n Go classifies this slot as "very high" and gives it a rating of "10 out of 10" for the volatility.
You could argue that this slot has an extremely high variance, given the highest possible rating that Play 'n Go has given. The issue is that Play 'n Go often gives slots the highest possible score. We classify this slot as a high variance slot (such as Book of Dead or Reactoonz), but certainly not as an extremely high variance slot such as Netent's Dead or Alive or Dead or Alive II.
Nevertheless, the maximum win is capped at 9,000x the bet, which is, of course, a blistering win, if you get it. It is certainly extraordinary. Wins above 2,000x the bet are possible here.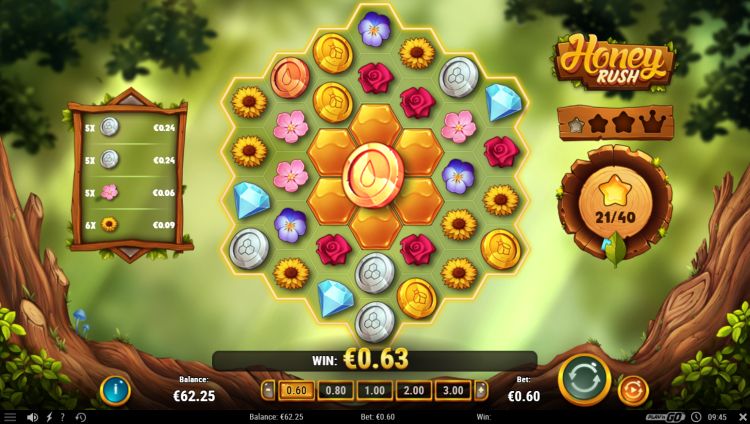 Rush Meter
We have not mentioned the Rush Meter, which is an essential feature.
With every winning combination, the Rush Meter is filled.
If you manage to fill certain levels of the Rush Meter, you'll get all sorts of nice extras:
20 symbols: a Drone Colony plus a sticky wild
40 symbols: a Drone Colony plus another sticky wild
80 symbols: a Drone Colony plus a third sticky wild
160 Symbols: a mega big Queen Colony.
The wilds move to an empty cell after a winning combination and can contain multipliers up to x 3. This game mechanism is very similar to the popular video slot Jammin' Jars,
Because there can be a maximum of 3 wilds in the game, the maximum achievable multiplier is as much as x 27 (3x3x3).
The Rush Meter is responsible for most of the excitement and sensation in this game. If you get to the 4th Rush Meter, you can rub your hands as you are going to get a massive win. Sometimes this game can lead to some frustration, in particular, if you can't get to the next level and miss out the juicy extras.
As Honey Rush is a high variance slot, your balance can move up rapidly (in one go), and this is precisely the adrenaline kick that high-risk gamblers are after.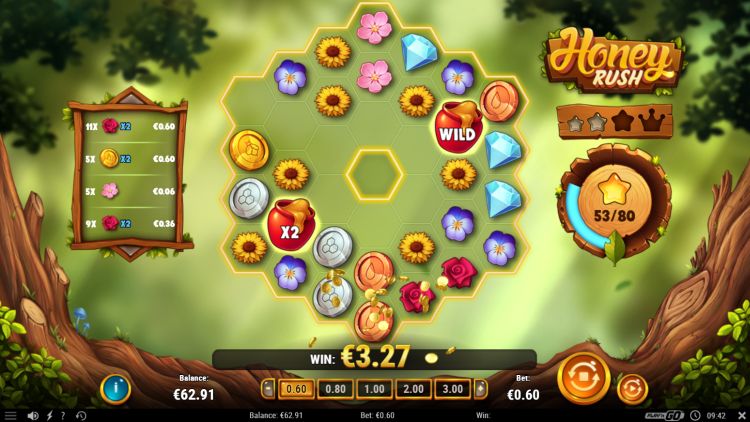 Our verdict on the Honey Rush video slot?
We're big fans of this genre of slots (Reactoonz is even one of our favourite Play'n GO slots ever), and Honey Rush is a slot we will be playing for a long time to come.
The slot has pretty much everything in terms of features and gameplay. The progressive character of the Rush Meter and the sticky wilds with extra multipliers provide more than enough excitement and entertainment.
Due to its volatile nature, the slot can be frustrating though, but all that can disappear if you land a payout of a few thousand x your bet.  In any case, make sure you have enough balance when you start playing Honey Rush.
4 out of 5 stars.
Where can you find Honey Rush?
The Honey Rush slot is found at all reliable Play'n GO casinos. One of these online casinos is Slots Million, which is a very reliable place to play your favourite slots for real money.
You can play the Honey Rush slot at Slots Million with a 100% bonus up to $€ 100 plus 100 free spins.
Play Honey Rush at Slots Million with a 100% bonus up to $€ 100