If you are looking for an online slot that gives you big payouts, innovative gameplay and beautiful graphics, look no further.
Gonzo's Quest is an absolute classic online slot from those wizards at Netent.
Gonzo's Quest has some unique gameplay features:
Replacing the traditional reel spin, the game introduces the Avalanche feature whereby symbols fall into place on the reels

Winning symbols disappear to make way for new symbols

This way you can get several winning combinations on the same spin

With every winning combination, the multiplier increases, up to a maximum of x5 in the base game

As long as you keep winning, you will get the multiplier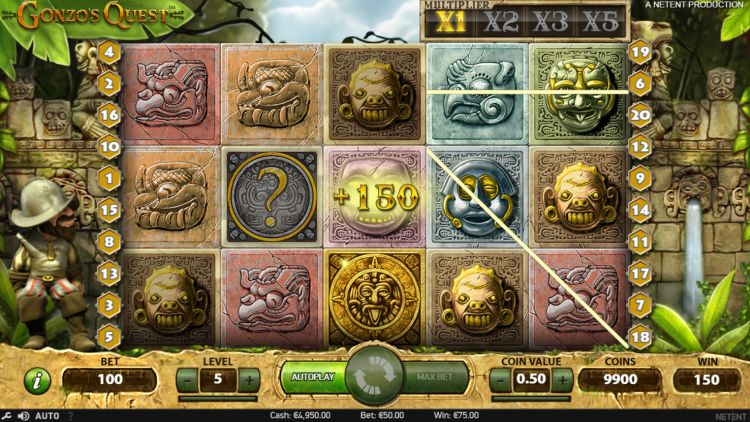 Beautiful graphics and a funny sidekick
Gonzo's Quest theme is gorgeous. Everything revolves around the golden riches that are hidden in the city of Eldorado, deeply secluded in the dense jungles of Peru.
It is up to you to find these treasures and return a rich and famous explorer. Of course, you will not have to go through these turmoils alone. Good old lovable Gonzo is here to help you in your quest and will motivate, amuse and activate you where needed. 
I usually am not a big fan of "funny" side characters in slots as they tend to break the flow of the game and typically get annoying fast.
But Gonzo is different. He is rooting for you and will get you to smile every once in a while with his playful antics. The way his shadow walks into the sunset in slow motion after a bonus round has been triggered gets me every time. Gonzo, you are a true friend.
But enough of the flattery. Back to the game. What is the bonus feature like?
Bonus feature Gonzo's Quest slot
Three or more Free Fall symbols (including wilds) trigger the Free Fall bonus: at least 10 free spins. That is not all, though. Multipliers are boosted to x3, x6, x9 and even up to a staggering x15 in the bonus feature.
If you can get multiple winning combinations in one spin, the potential is there for super big wins.
An added plus is that retriggers seem to happen frequently in the bonus game, giving you, even more, chances of a very nice payout. 
Financial analysis of Gonzo's Quest
We have put together an extensive financial analysis of the Gonzo's Quest slot, including:
Our results of 5,000 real money spins on Gonzo's Quest
The prize distribution
Your chances of winning on Gonzo's Quest
How to successfully apply the "Hit and Run" strategy to Gonzo's Quest
Our results on 5,000 real money spins on Gonzo's Quest
We played no less than 5,000 real money spins on Gonzo's Quest.
Here are our results, which include some real surprises!
Let's see how well our good friend Gonzo treated us.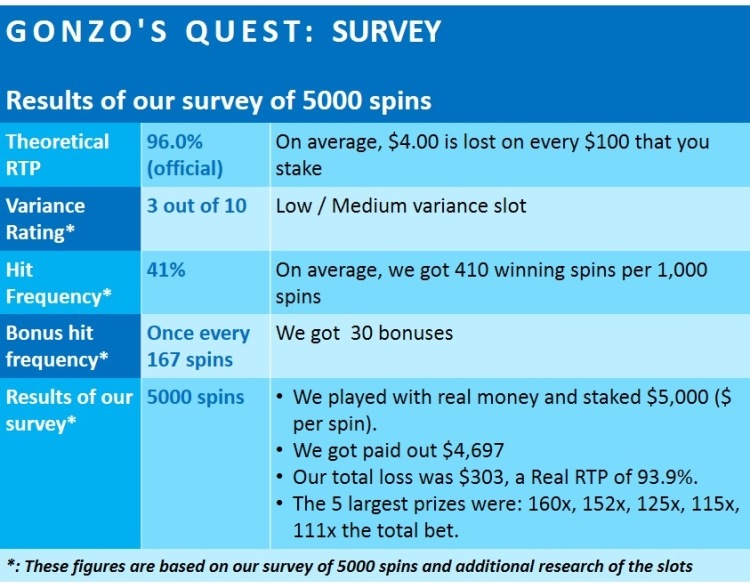 What kind of prizes does Gonzo's Quest pay out?
Gonzo's Quest is a low to medium variance slot. This implies that Gonzo's Quest does award reasonable sized prizes one in a while, but these will not be outrageous.
Take, for example, prizes of 100x to 250x your total bet. These prizes are paid out once every 1,000 spins, which is very often, compared to most other slots.
If you get a reward of 500x (or more) of your total bet, consider yourself as very lucky. These prizes are not common at all: once every 100,000 spins.
Awards of 1,000 the total bet or more, are not seen with this slot. If you hit a win of over 1,000 times the bet, consider this as a lifetime achievement!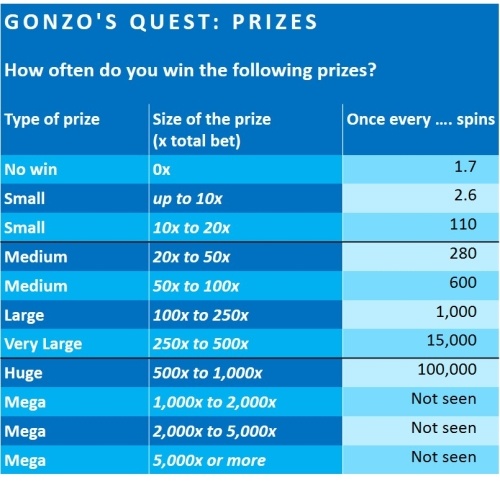 What are my chances of winning on Gonzo's Quest?
Below, you find your chances of winning (or losing) a certain amount of $€, when you spin 100 x ($€1 per spin) or 500 x ($€0.20 per spin).
For the sake of comparison, the total amount wagered is $€100 in both cases.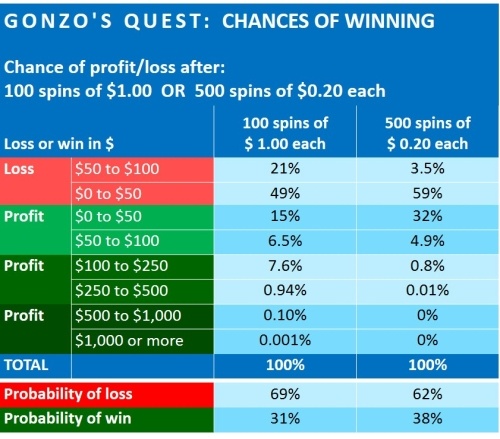 You see that your chance of winning $€250 or more (out of a bankroll of $€100) is 0.94% if you spin 100 x ($€1 per spin). Chances to win over $€1,000 are marginal (0.001%).
If you like to keep some cash, you will if your spins are $€0.20 in size. Chances of losing more than $€50 are just 2.5%.
Does the "Hit and Run" strategy work with Gonzo's Quest?
With the Hit and Run strategy, you have an initial bankroll of (say) $€100. You start playing $€1, $€5 or $€10 per spin, until you, either:
Have reached your target profit: profits of at least $€10, $€20, $€50, $€100, $€200, $€500, $€1000, $€2K, $€5K, $€10K, $€20K or $€50K (the latter is 500x your bankroll).
Have lost your entire bankroll ($€100 in this example)
The table below shows the chance of meeting the target first: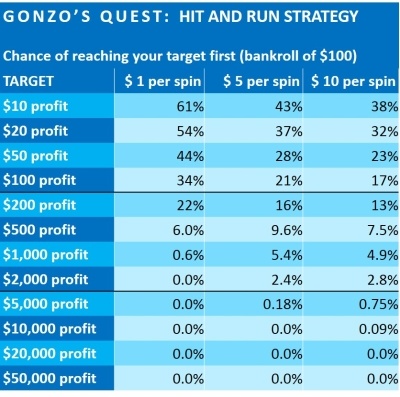 The Hit and Run strategy works well on Gonzo's Quest if you target a profit of $€100 or more (up to $€2,000), with an initial bankroll of $€100.
For example, the chance of reaching the target of $€500 is 9.6% if you stake $€5 per spin. Avoid doing spins of $€1 if you aim for higher prizes, such as $€500 to $€2000 profit.
If you seek higher profits of say $€5,000 or more, you need to select a slot with higher variance.
Gonzo's Quest is a low to medium variance slot, ideal for players who seek some upwards potential, at limited risk
Gonzo's Quest is the perfect slot for the people who like to play it on the safer side, but want to win decent sized wins.
The Theoretical RTP of Gonzo's Quest is 96.0%, which is good but not outstanding.
Gonzo's Quest is a great slot if you are looking for a low to medium variance slot.
Gonzo's Quest pays out a lot of prizes (compared to other slots) of 250x to 500x the total bet.
The Hit and Run Strategy works well with Gonzo's quest if you aim a profit of around 5 to 20x your initial bankroll.
Our verdict: a classic online slot!
Gonzo's Quest is a true classic Netent slot, and a must go to slot at least once a week for me. Although the bonus is quite hard to trigger, it is a very real scenario that one single bonus round will turn a losing session into a winning session. And then some.
The graphics and sound are also top notch and fit the explorer / Aztec theme of the game. One of Netent's best slots, it has been copied numerous times but never rivalled. 
The extended gameplay and surprise elements of the Avalanche feature and the Free Fall feature ensure an unforgettable player experience. 
Gonzo's Quest comes highly recommended with a score of 4.5 stars out of 5 to show for it. 
Play Gonzo's Quest at Casumo and get a 200% bonus up to €$50.