May 2020 is a pivotal month for Netent; it is the month they released Gods of Gold with their brand new Infinireels mechanism. Will it turn out to be the Megaways killer?

Netent's developers have been scratching their heads for years to find an answer to the Megaways slot mechanism and its incredible success. Now finally, with Gods of Gold, the Infinireels concept is seeing the light of day for the first time.
An exciting game mechanism, in which you get more and more reels, as long as you keep on spinning winning combinations.
You can work your way up to an infinite number of ways to win, hence the name Infinireels, a fusion of the word Infinite and Reels.
By the way, they weren't the very first to release a slot with this concept. It was Reelplay, a small provider, who already at the end of 2019 released a slot with a similar mechanism: El Dorado Infinity Reels.
The big question is, of course, which provider can claim to have invented the concept: the mighty Netent or the insignificant Reelplay?
Since a deal was reached between both parties (better yet, Netent probably paid a tidy sum to Reelplay), we think we can call Reelplay the spiritual father of the ever-expanding reels.
We sincerely hope Netent will be able to break their dry spell in creativity and success with this slot and the Infinireels concept. Will Infinireels be able to stop the Megaways advance?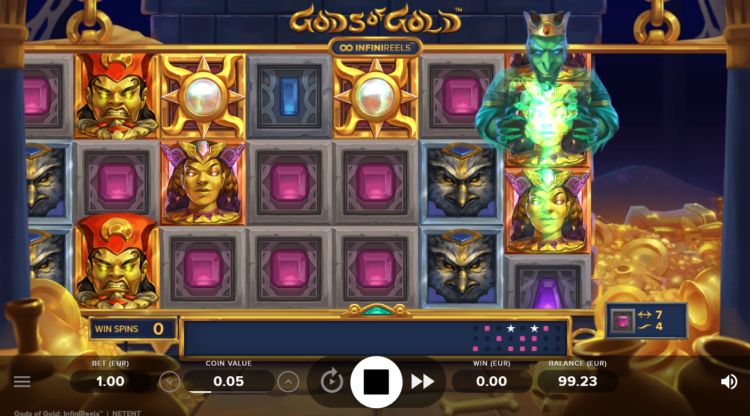 Gods of Gold gameplay and features
Gods of Gold has an initial playing field of 3 x 3 symbols, where the win all ways principle is active (27 ways to win).
If you form a winning combination, a reel is added. After the first winning combo, you play with 4 (reels) x 3 (positions) = 81 ways to win.
After two winning combinations, there are 243 ways to win, and so it is multiplied by a factor of three after each step.
Can you achieve 20 consecutive winning combinations? Then you play with almost 3.5 BILLION ways to win.
The longer the chain of winning combinations is, the higher the payout.
You won't be surprised that the variance of Gods or Gold Infiniteels is high. The highest payout with this slot was 25,000 x the total bet.
The theoretical payout rate is 96.21%.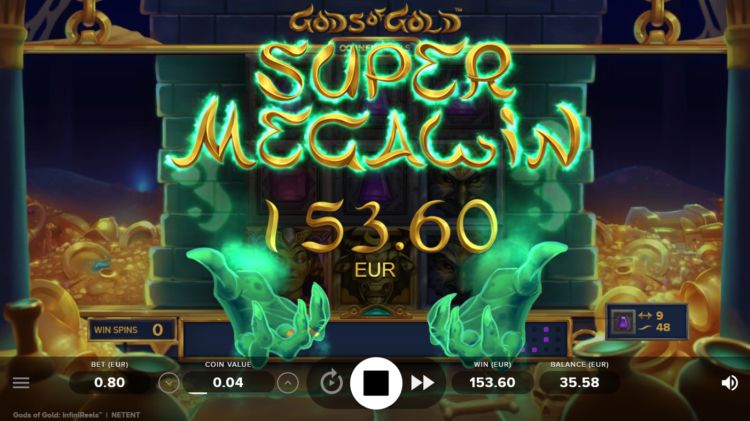 Symbols and payouts
There are high paying symbols in the form of gold masks and low-value symbols, in the form of gemstones.
But actually, it doesn't matter whether you spin high or low symbols as long as you form very long and many winning combinations, you can make a lot of money.
Three boosters may give your results a little push in the right direction:
Wild symbols, which replace all other symbols (except the scatters).
Multi Slams, awarding you extra winning reels.
Re-spins, giving you a bigger chance of making winning combinations.
Because it can get quite overwhelming, Netent has made sure that you can also follow the game progress in two other ways.
There is a mini-map, a kind of scroll with winning combinations, where the dots (symbols), stars (scatters) and the "W" (wilds) resemble winning combinations that scroll from right to left.
Second, there is a counter that shows which and how many winning combinations you have already made.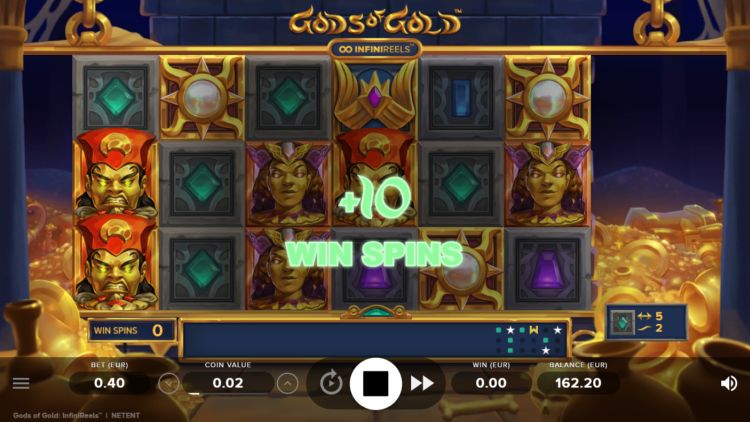 Win Spins
Three or more scatters will earn you the Win Spins bonus.
If you spin three scatters, you win 10 Win Spins, and each additional scatter will reward you with 5 extra Win Spins. Again, you can hit an infinite number of Win Spins.
The Win Spins are free spins, guaranteed to yield a winning combination at the first spin.
Every spin is a hit, although it doesn't mean that every Win Spin will result in a Super Big Win. The chain can be broken even after 1 or 2 winning combinations.
It is possible to retrigger the Win Spins. That is always welcome, especially when you are on winning streak.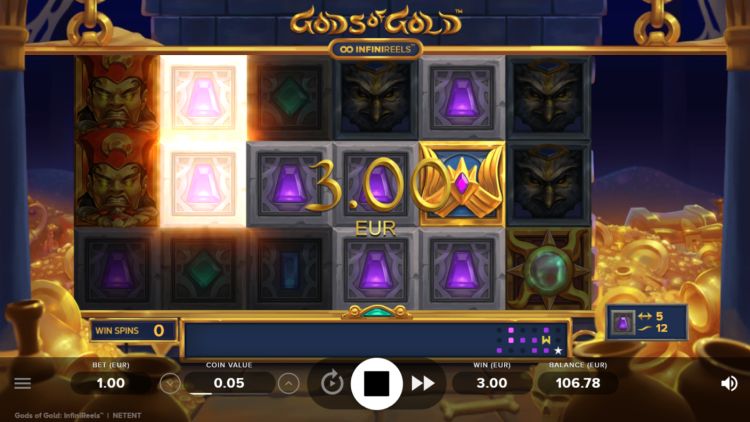 Our verdict on Gods of Gold Infinireels?
The Gods of Gold Infinireels video slot is a brilliant Netent release, with fantastic gameplay and a high potential to win big.
Netent clearly did a better job, compared to Yggdrasil's potential Megaways killer mechanism, the Splitz concept, that premiered in Temple Stacks Splitz.
Visually, Netent also delivered absolute craftsmanship. Netent's intention is clear; they desperately want to score with this concept so they can roll out the Infinireels concept further with more online slots in the future.
Whereas with Temple Stack Splitz, Yggdrasil kept a bit middle of the road, we did not feel their intention to compete with the Megaways collective fiercely.
However, we are super excited to see if Infinireels will succeed, and what Netent will come up with next. Of course, there are endless possibilities. Not only in terms of theme but also in terms of the design of the reels and maybe they throw in some mystery symbols or multipliers.
You could even imagine that the new reels also expand in height with every spin, a kind of a cross between Infinireels and Megaways slots.
4 out of 5 stars
Where can you find Gods of Gold Infinireels?
The Gods of Gold Infinireels slot is found at all reliable Netent casinos. One of these Netent casinos is Casumo, which is a very reliable online casino, with a massive selection of slots.
You can play the Gods of Gold Infinireels slot at Casumo with a 100% bonus up to $€300 plus 20 free spins.
Play Gods of Gold Infinireels at Casumo with a 100% bonus up to $€ 300