Extra Chilli is a high variance Megaways slot by the popular game studio Big Time Gaming

Serious gamblers have been looking forward to the release of this slot – it is the sequel to the incredibly cool Bonanza slot.
And we can already divulge, this Megways slot scores very well on all fronts. You can win vast amounts of money, and Extra Chilli is filled to the brim with entertaining features: hot, hot, hot.
Just check this out:
Up to 117,649 ways to win (Megaways)
Win up to 24 free spins
Buy a bonus with the Feature Drop option
Unlimited gains in the bonus
An attractive RTP of between 96.15% and 96.82%
If we add to this that the Mexican theme is perfectly developed and has fireworks aplenty, hot peppers and coins flying through the air, you know you are in for a real treat!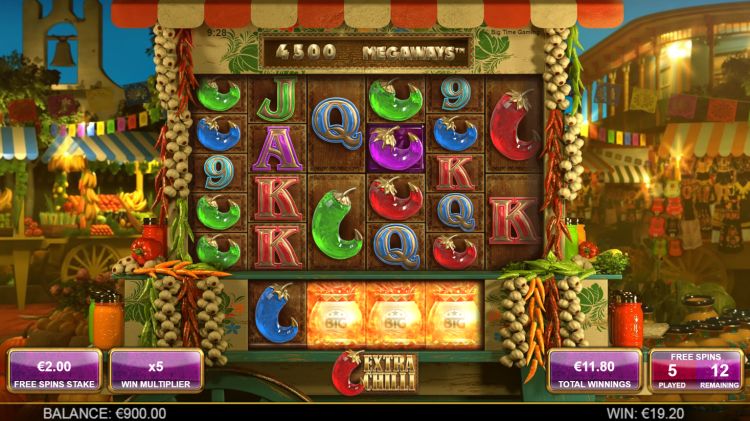 How does it all work?
Extra Chilli works according to the win all ways principle: so, there are no fixed paylines. It does not matter where the symbols land on the reels, as long as they fall on consecutive reels from left to right.
At every spin, there is a variable number of symbols on the reels (up to a maximum of 7), which leads to a result of a maximum 117.469 ways to win.
And you know what that means: extremely high numbers of ways to win = extremely big payouts.
The betting range is pegged between $€ 0.20 and $€ 40 per spin.
Symbols and payouts
The symbols are a mix of hot peppers and card symbols. The peppers are the most valuable, but be careful not to burn your mouth; these peppers are devilishly hot.
The purple peppers pay out the most: a 6-of-a-kind will result in a 50 x your total bet coming your way.
Red, blue and green peppers have a value between 2 x and 7.5 x your bet. The card symbols 9, 10, J, Q, K and A will pay out between 0.8 x and 1.75 x the bet.
The wild symbol (the fireworks) replaces all other symbols, except for the scatters.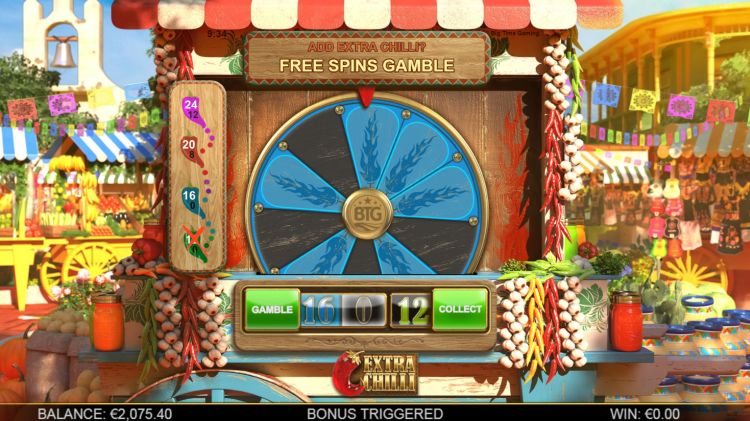 Free spin bonus: Up to 24 spins
Spin 3 or more scatters and you will get your hands on that much coveted free spin bonus.
3 scatters (the letters H, O and T) are good for 8 free spins. Every extra scatter on top of that will get you an additional 4 extra spins.
During the free spins, a multiplier is active that is increased with +1 after EVERY winning combination. On account of winning symbols making way for new ones (which can lead to more winning combinations), the multiplier can reach dizzying heights.
There is no limit to the value the multiplier can reach – often it will climb into the double-digit range. This can cause the payouts to become massive, especially considering that the Megaways and wilds are active even in the bonus round.
By spinning 3 or 4 golden pots of peppers on the bottom reel, you win an additional 4 to 8 extra free spins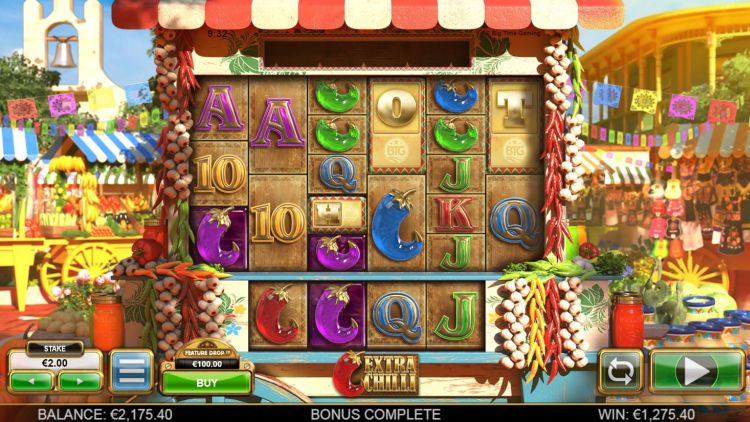 Feature Drop: buy a bonus
The Feature Drop is a so-called "buy a bonus". This means you can buy yourself direct access to the bonus round, by putting down 50 x the bet per turn.
If you are playing with $€ 0.20 per spin, it will cost you $€ 10. Should you be betting $€ 1 per spin, it is going to put you back $€ 50.
It is a significant risk, because of the high variance of Extra Chilli it can go both ways. Either you win a paltry sum, or you gain a small fortune.
The payout rate with the Feature is higher than with the primary game: a whopping 96.82% as opposed to 96.16%
Gamble Feature: put free spins in for more free spins
Pretty unique to Extra Chilli is the gamble feature. Here you can wager (a portion) of the free spins to attempt to increase their number. For instance, you could start with 8 free spins and, by multiple successful rotations of the wheel, you could end up with 12, 16, 20 or even 24 free spins.
This is not without risk though, should you lose, all of or a large portion of your free spins will be gone.
Financial analysis of Extra Chilli
We have put together an extensive financial analysis of the Extra Chilli slot, including:
Our results of 5,000 real money spins on Extra Chilli
The prize distribution
Your chances of winning on Extra Chilli
How to successfully apply the "Hit and Run" strategy to Extra Chilli
Our results on 5,000 real money spins on Extra Chilli
We played no less than 5,000 real money spins on Extra Chilli.
Here are our results, which include some real surprises!
Our run with Extra Chilli was anything but great, as we lost a whopping $789 after 5,000 spins. The reason for this: we did not win any large prize. Our largest prize was a mere 71x our total bet.
Out top 5 prizes were 71x, 59x, 58x, 51x, 49x.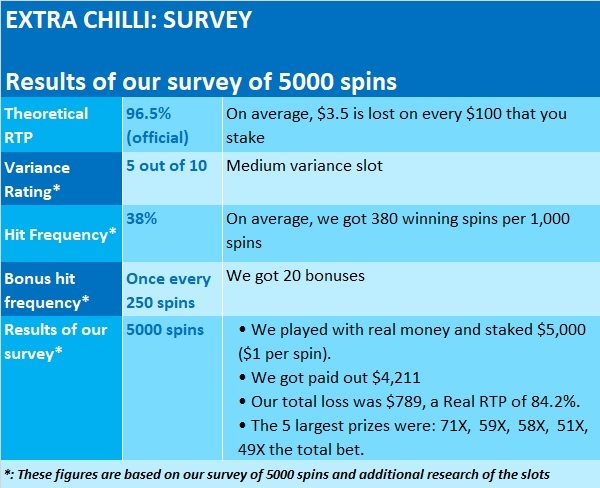 What kind of prizes does Extra Chilli payout?
Extra Chilli is a medium variance slot. Most likely, you will hit small to medium prizes of 10x to 50x the total bet.
Take, for example, prizes of 10x to 20x the total bet: these are paid out once every 90 spins over the longer run.  If you don't budge out too early, you will surely hit one of these prizes.
Winning a reward of 1,000x (or more) of your total bet is also possible: these prizes do not hit that often though. We qualify Extra Chilli as a medium variance slot.
For us to mark the slot variance as extremely high, we would like to see the real significant prizes to hit more often.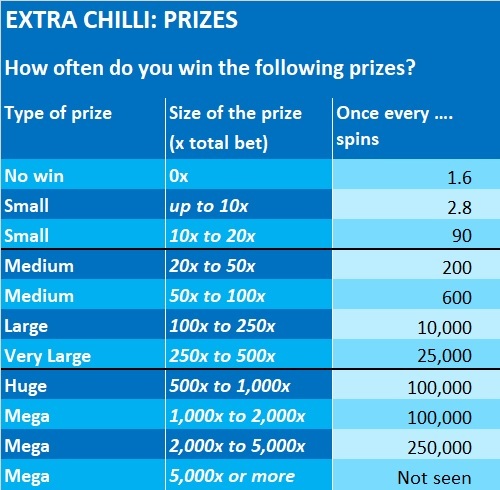 What are my chances of winning with Extra Chilli?
Below, you find your chances of winning (or losing) a certain amount of $€, when you spin 100 x ($€1 per spin) or 500 x ($€0.20 per spin).
For the sake of comparison, the total amount wagered is $€100 in both cases.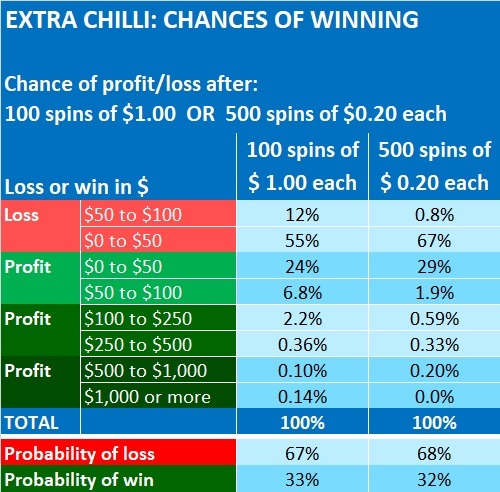 You see, for example, that your chance of winning 2.5x to 5x your bankroll (profits of $€250 to $€500) is 0.36% if you spin 100 times ($€1 per spin).
With Extra Chilli, there are also chances to win more than $€500. These chances are small, though.
Does the "Hit and Run" strategy work with Extra Chilli?
With the Hit and Run strategy, you have an initial bankroll of (say) $100. You start playing $€1, $€5 or $€10 per spin, until you, either:
Have reached your target profit: profits of at least $€10, $€20, $€50, $€100, $€200, $€500, $€1000, $€2K, $€5K, $€10K, $€20K or $€50K (the latter is 500x your bankroll).
Have lost your entire bankroll ($€100 in this example)
The table below shows the chance of meeting the target first: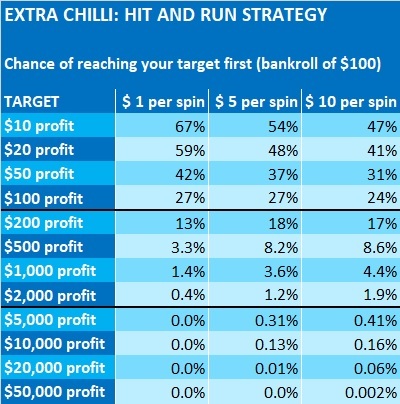 Extra Chilli is an excellent slot, only if you aim for a significant profit with the Hit and Run strategy. To get best results, compared to other slots, you need to go for profits between 10x and 20x your bankroll (in the example of a bankroll of $€100: earnings of $€1,000 to $€2,000).
For example, the chance of reaching the target of $€1,000 is 4.4%. In that case, you need to increase the bet per spin to $€10.
If betting $€10 is too much for you, you need to have a lower target profit. In that case, you get better results with lower variance slots such as Gonzo's Quest or Starburst, to name a few.
Do you want an even higher profit? In that case choose an extremely more volatile slot, such as Jammin' Jars or Dead or Alive II.
Extra Chilli is a medium variance slot with serious top prizes
The Theoretical RTP of Extra Chilli is between 96.15% and 96.82%, which is quite good.  This slot does award some massive prizes though, making it enjoyable enough to play.
If you like winning a lot of small prizes in the range of 10x to 50x the total bet, Extra Chilli is an excellent choice.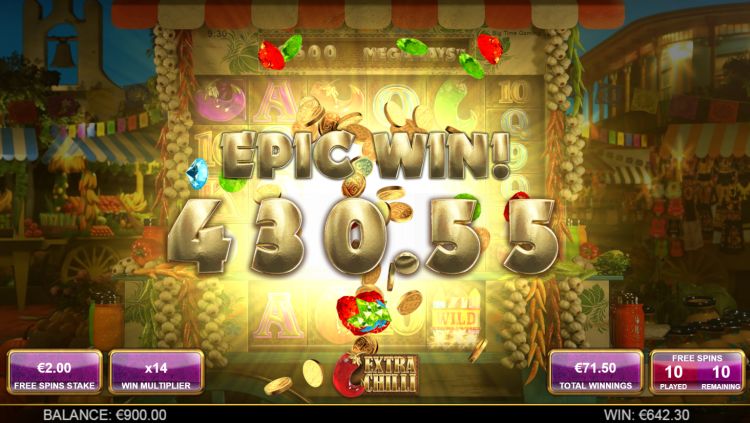 Our verdict on the Extra Chilli slot?
Big Time Gaming has done it again: with Extra Chilli they released a true beast of a Megaways slot. The gambler who is looking for some more risk in his game will also be smitten by the Feature Drop – who on earth doesn't want to see an accelerated entry into the bonus round?
Some caution will serve you well, as Extra Chilli can be volatile. Huge paydays and alternatively, big disappointments will occur, and you have to be able to stomach that.
We are big fans of Big Time Gaming slots and are entirely convinced that Extra Chilli will become just a popular as Bonanza, the slot that started it all.
4.5 out of 5 stars.
Where can you find Extra Chilli?
The Extra Chilli slot is found at all reliable Big Time Gaming casinos. One of these Big Time Gaming casinos is Slots Million, which is one of our favourite online casinos.
You can play Extra Chilli at Slots Million with a 100% bonus up to $€ 100 plus 100 free spins.
Play Extra Chilli at Slots Million with a 100% bonus up to $€ 100