Everybody surely knows the Deal Or No Deal game, famous from television and produced by Endemol.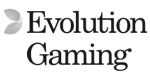 This is an exciting game, where you choose a briefcase with mystery content, and more and more briefcases are opened as the game progresses.
Luck, strategy and daring are indispensable ingredients with, Deal Or No Deal and the game has proven to have an irresistible attraction for people.
There are Deal Or No Deal slot machines, board games, video slots and fruit machines. And did you know that Deal Or No Deal has been broadcast in precisely 50 countries?
Deal or No Deal has aired, amongst others, in Canada, the UK, the US, Germany, Brasil, Spain, and… who would have thought, Zimbabwe and Japan.
Leave it to the talented minds of Evolution Gaming to come up with a Live Casino version Of Deal Or No Deal.
The name is as simple as it is to the point: Deal Or No Deal Live.
Evolution Gaming has managed to give other existing formulas a big boost in the past (think of Lightning Roulette and Monopoly Live) and is the absolute king of the Live Casino.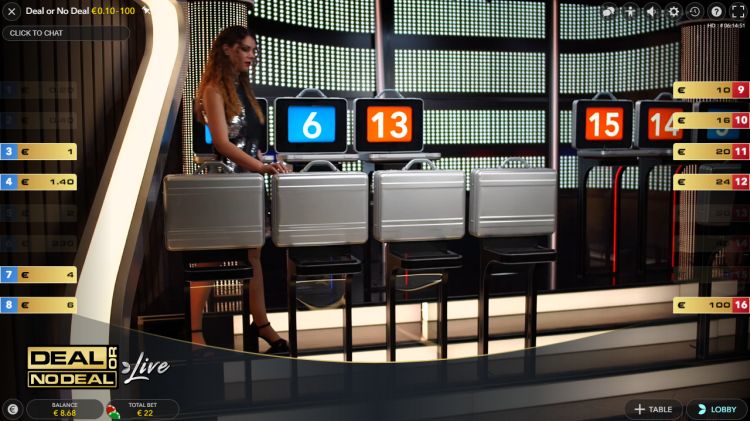 How does Deal Or No Deal Live work?
We have tested this game extensively and with real money and we were quite impressed by this Evolution Gaming variant.
As loyal fans of the super exciting tv show, we can now start playing it ourselves in the Live Casino. With real money and real payouts.
You will not get rich, in the sense that you could win millions, with Deal Or No deal, but you will have a lot of fun, guaranteed!
Deal Or No Deal seems a bit complicated at first glance, but it is just a matter of playing it a few times to get the hang of it.
In essence, the game consists of 3 steps:
The qualification round
The Top Up round (not mandatory)
The well-known Briefcase game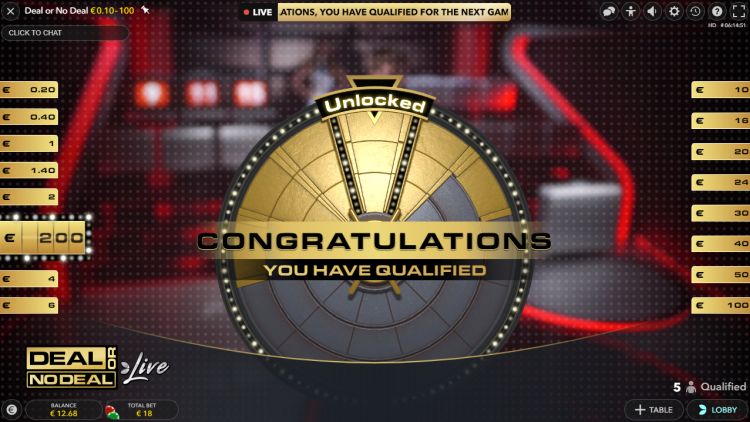 The qualification round
To participate in the Deal Or No Deal Live game, you have to earn a spot first: the qualification.
You earn your participation by spinning a wheel and managing to have three golden segments end up in the "Locked" part of the wheel.
But before you spin you have to determine how much money you will bet with each turn. The amounts range from a minimum of $€ 0.10 to a maximum of $€ 10.
Next up, you choose what the degree of difficulty will be to spin the wheel:
Normal (cost: 1 x the bet)
Easy (cost: 3 x the bet)
Very Easy (cost: 9 x the bet)
The easier it is to win the qualification, the more expensive the turn gets.
On the normal setting, you can win your certificate of participation on the first or second turn, but it could also take 20 or more.
Our advice: start with small bets for you to get a feel for this game.
The qualification round always lasts for 2 minutes. Didn't manage to secure your participation within this time? No reason to panic whatsoever: a new round starts up automatically.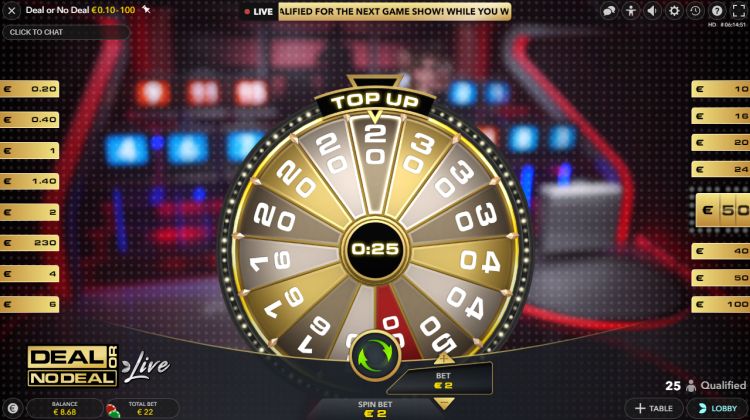 The Top Up round
When you finally did manage to qualify, you receive another 2 minutes to do a so-called "Top Up". This is entirely voluntary, and so it is up to you to decide if you want to do this or not.
Just like in the real game, there are 16 briefcases. Eight low-value ones (blue) and eight high-value ones (red)
The value of the briefcases varies from 0.1 x the bet (the lowest) to 500 x the bet (the highest). The highest value briefcase is standard number 16, but you can also choose your own number for this.
And now we are getting to it: for the price of 1 x the bet you are allowed to select 1 of the 16 briefcases and make it extra expensive. To achieve that you spin another wheel that has values on it ranging from a minimum of 5 x to a maximum of 50 x.
Are you playing with $€ 0.50  and you land on 50 x? Then your chosen briefcase is increased in value by $€ 25.
As long as the game has not started, you are allowed to repeat the Top Up, and it is also possible to increase the value of more than one briefcase. So, this is the perfect way to spread your chances of a payout.
A brilliant idea by Evolution Gaming: it increases the profits for the online casino, and the player now has an opportunity to implement his or her own Deal Or No Deal strategy.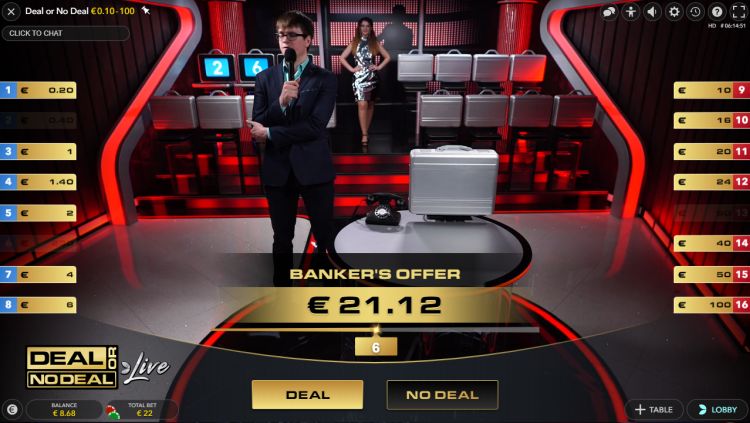 The briefcase game
When the 2 minutes of the Top Up are over, it is finally time to play the famous briefcase game.
One of the briefcases is at the front, near the presenter. That is your mystery briefcase with which you will play the game. It could have a big prize (perhaps top prize?) inside or you could have a dud, with a value of only a few cents or 1 $€.
Next up the briefcases will be opened up in 4 rounds.
After every round, you get an offer from the bank. The choice is yours: will you take the money, or do you play on and hopefully manage to win a bigger prize?
Here are the rounds and how many briefcases are opened in each one:
First round: 3 briefcases
Second round: 4 briefcases
Third round: 4 briefcases
Fourth round: 3 briefcases
You only have 10 seconds in which to accept an offer from the bank. Better not to hesitate if you consider it a good one!
After four rounds there are only two briefcases left: yours and one other. You are always allowed to swap your briefcase with the only remaining one.
Whether it is a statistical advantage or not isn't known, but should you have doubts, then now is the time to pull the age-old switcheroo.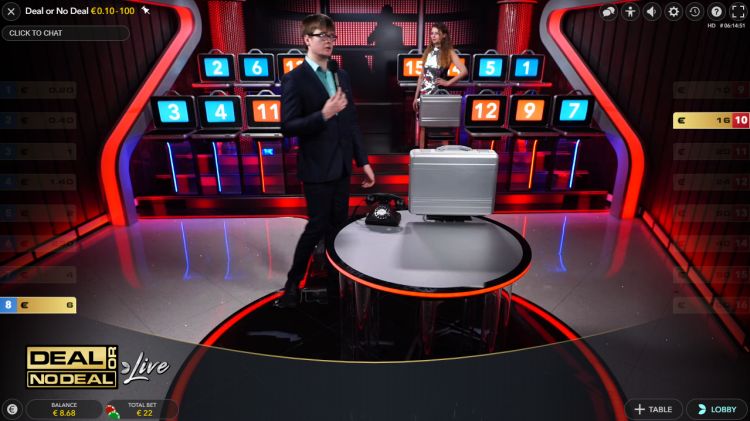 Strategy and tips for Deal Or No Deal Live
Although every casino game has a house edge and so as a player, you are always at a disadvantage vis-a-vis the casino; there are certain strategies that you can apply to enhance your performance.
These are our tips for Deal Or No Deal Live:
Deal Or No Deal Live has a theoretical payout rate of 95.42%, which translates in a house edge of 4.58%. That is quite high for a Live Casino game.
As a comparison: Live Roulette has a house advantage of 2.70% and, if you correctly apply the basic strategy, Blackjack only has a house edge of 0.5% or 1%.
So, don't get greedy in this game and use the hit and run strategy as much as possible. If you reach your winnings target, quit right away.
If you get a great offer from the bank, take it. Don't think about what you could have gotten but focus on what you have.
It is possible to play with the variance in the game, but you can also use the Top Up round to raise the amount you can win and increase the variance at the same time.
Would you like to create a lower variance? Then divvy up the Top Up option to increase the value of multiple briefcases. This way, you spread your chances to receive a nice payout.
The Very Easy Bets in the qualification round are costly: they cost 9 x the basic bet. So, if you are playing with a $€ 1, you will be out $€9 per spin, without any guarantee that you can get in and start winning some money.
So, beware of these Very Easy Bets. We usually play with Normal or Easy Bets and have gotten good results that way.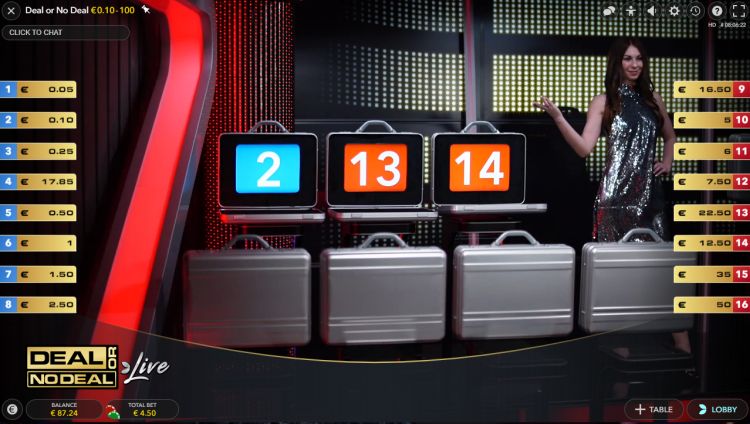 Our verdict on the Deal Or No Deal Live video slot?
Evolution Gaming are the absolute rulers of the Live Casino genre and seem to have the Midas Touch at the moment: everything they touch turns into gold.
They have done it again with this Deal Or No Deal. Everything about this game is spot on, from beginning to end. It is recognisable but unique at the same time, in large part because of the qualification and Top Up rounds, as well as the live presentation. Also, a signature move by Evolution Gaming to have the briefcases opened by a lovely lady (although in this case, it needs the push of a button). It gives the whole experience a touch more class.
4 out of 5 stars.
Where can you find Deal Or No Deal Live?
The Deal Or No Deal Live slot is found at all reliable Evolution Gaming casinos. One of these Evolution Gaming casinos is Casumo, which is one of our favourite online casinos.
You can play the Deal Or No Deal Live slot at Casumo with a 200% bonus up to $€50 plus 200 free spins.
Play Deal Or No Deal Live at Casumo with a 200% bonus up to $€50