300 Shields is a very entertaining slot with the epic (and extremely bloody!) battle between 300 heroic Spartans and the massive army of Xerxes as its central theme.

Despite their significant minority, the Spartans managed to defeat the Xerxes army to a large extent. Therefore, this slot is only for the real rowdies among us: it brings the bravest warrior eternal fame. Or at least infinite riches.
For the 300 in the title not only refers to the historical event bearing the same name but also to the fact that you can earn a multiplier of 300 x in the bonus game.
This. Is. Sparta!!
Earn multipliers up to 300 x
We'll give you some time to take it in. It's really true: in the bonus game you can earn a truly unprecedented multiplier of 300 x. To put it simply, you can win astronomical amounts with this slot, even at low bets.
And that is reason enough to try out 300 Shields immediately. Graphically, 300 Shields is also excellent: the Spartan warriors (who also function as Wild) occasionally jump out of the screen to celebrate the winning combinations with a holler.
Another fun detail: you can see shot arrows still sticking in some of the symbols. It all contributes nicely to the eerie atmosphere.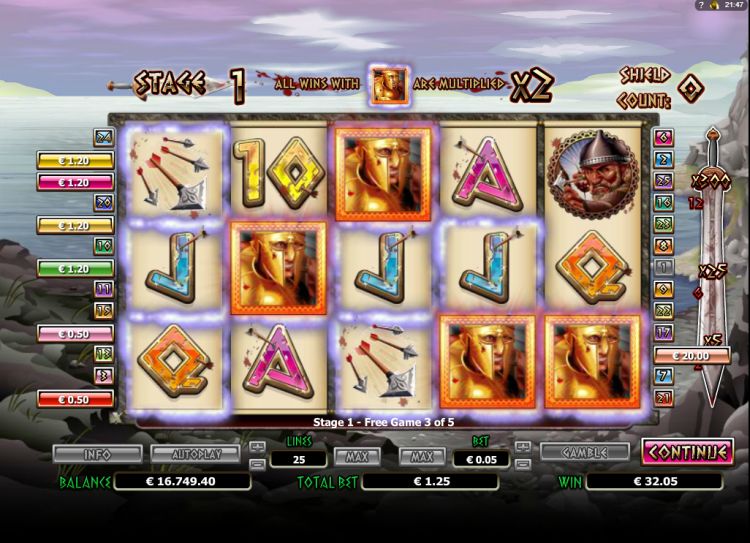 How does the 300 Shields slot work?
At the heart of 300 Shields are the brave Spartan warriors who played the leading role in this historical epic. The symbols, which spread over a standard screen of 5 reels x 3 symbols, are related to violence, war and battling.
Think warriors, shields, archers and swords, and in the background a bloody battle in full swing. The Spartan warrior is Wild, and 3 or more scattered shields activate the bonus.
In the primary game, too, there is plenty for you to win, and this keeps the game exciting.
Although the bonus game has a low hit frequency, you won't get too bored.
And when you finally hit it…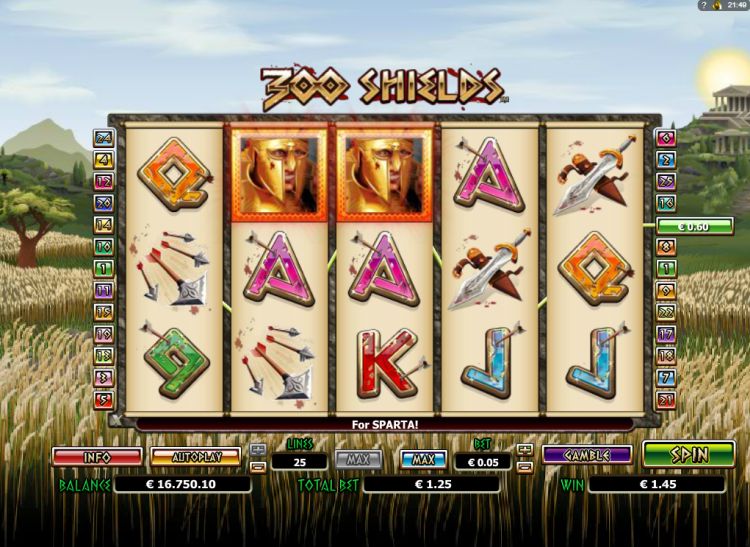 The bonus round of 300 Shields: multipliers up to 300 x
The 300 Shields slot has only one bonus round, and it's truly out of the world. Three or more scattered shields award you 8 free spins. And then it gets thrilling. The goal is to collect extra shields during the bonus rounds.
There are several levels you can reach in which you can earn extra multipliers and extra free spins. And if you're lucky enough to spin a retrigger, of course, you'll win twice: you instantly get 5 free spins, and you earn three shields (or more).
The levels you can reach are the following:
2 or more shields collected: 5 extra free spins and winning combinations with wilds are worth 5 x.
6 or more shields collected: 5 extra free spins and all wild wins are worth 25 x.
12 or more shields collected: 5 extra free spins and all wild wins are worth 300 x.
The bonus game of 300 Shields can be bloody nerve-racking.
You can win an awful lot, and sometimes you only need one more shield to make it to the next level with those desperately wanted extra free spins and that humungous multiplier.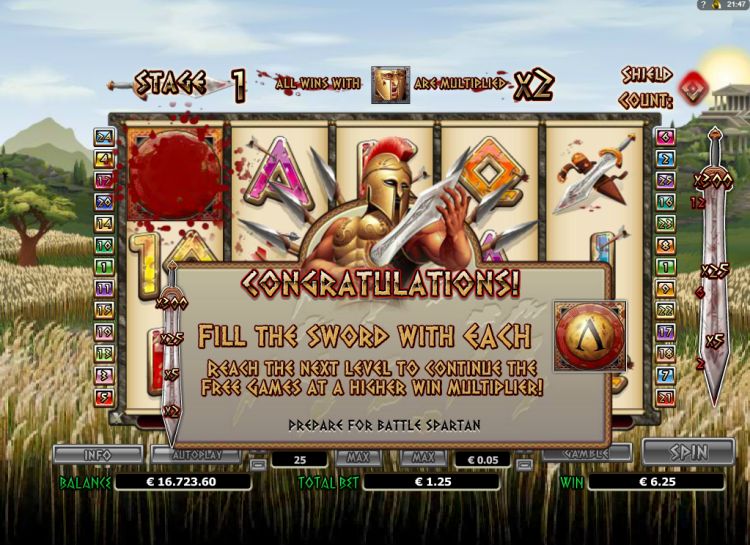 Three really good reasons to love 300 Shields:
300 Shields offers excitement like no other slot, while nicely portraying the Spartan battle spirit.
Unprecedented cool bonus rounds: the potential to win thousands of $€'s is continually lurking.
The base game doesn't bore either, despite the lack of minigames or innovative game concepts. Sometimes a slot is just put together very well, and this is true for 300 Shields.
Our verdict on the 300 Shields slot
300 Shields is a great slot that resembles some of our other favourite slots, like Medusa Megaways, in terms of style and theme.
Even though it can take a while before you can activate the bonus round, a large payout can make you forget about the long wait in an instant. As far as we know, no other slot offers players such an enormous multiplier of 300 x.
A great hit: 3.8 stars out of 5.
Where can you find 300 Shields?
The 300 Shields slot is found at all reputable NextGen casinos. One of these NextGen casinos is Casumo, which is one of our favourite online casinos.
You can play the 300 Shields slot at Casumo with a 200% bonus up to $€50 plus 200 free spins.