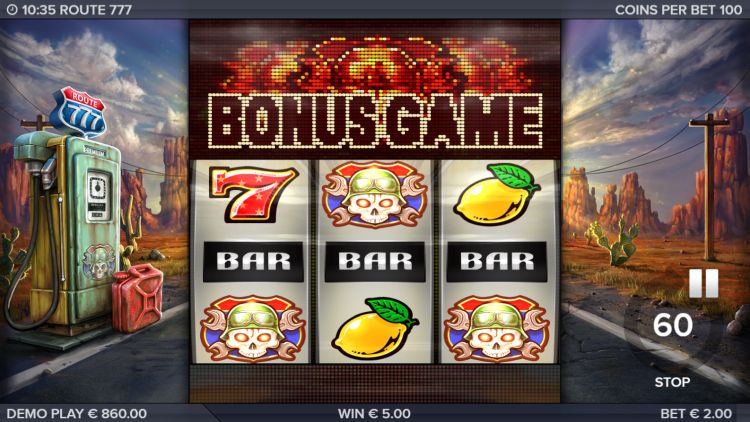 Elk Studios is a smaller game provider that chooses to put quality before quantity.

Up until 2017, they only released a handful of new slots every year, but what they do produce is generally of very high quality.
Elk Studios slots are known for their stunning graphics, well-executed themes and brilliant and original bonus features. Route 777, for example, is a mix of a classic fruit slot, a video slot and the LED screen of a pinball machine.
Elk Studios' slots are usually full of fun and combined with their mini-features, these slots are more than entertaining to play.
Taco Brothers and Wild Toro were Elk Studio's big breakthrough.
Their first releases, including The Lab, DJ Wild and Electric Sam, were a bit quirky and even a little uneven. That feeling disappeared whenTaco Brothers, and Wild Toro were released in 2016. These slots became a great success.
Once Elk Studios released higher variance slots, such as Hong Kong Tower, Ivanhoe and Hidden, their reputation was firmly established, and online slots players have been eagerly awaiting new releases ever since.
These slot players have not been let down: in 2018, Elk Studios released eight slots and, in 2019, even ten new slots! Expectations for 2020 are high, and we hope for at least another ten great Elk slots.
We love the slots developed by Elk Studios: they almost always seem to come up with something innovative, and the slots crafted to perfection.
More and more well-known online casinos are adding Elk Studios slots to their game offerings.
Do Elk Slots have high variance?
While Elk Studios has been pretty modest at the beginning in 2015 and 2016 when it comes to high variance slots, they have gradually made their slots more volatile.
The picture below shows how many slots they have released and what the variance of the slots has been.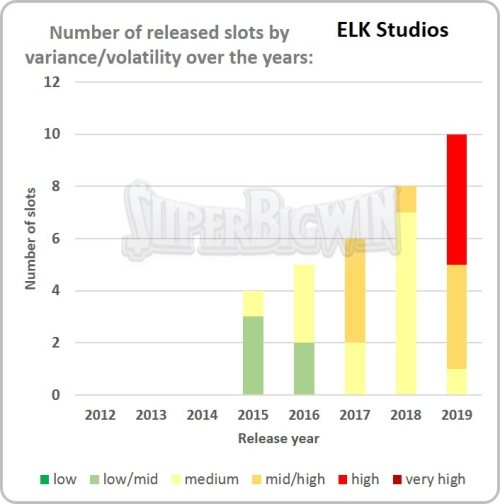 Besides the increased number of new slots that are released, you can see that there is a definite shift toward high variance slots.
In 2019 of the ten slots that Elk Studios released five high variance slots: Ecuador Gold, Hit it Big, Chi, Tahiti Gold and Voodoo Gold.
In particular, Chi is exceptionally volatile, with a maximum win of 12,500x the bet. It is the only Elk slot, where the maximum bet is limited to  $€ 20 only. It is to restrict the risk of a player hitting it too big for casinos.
Another volatile slot is Ecuador, where we have seen several wins exceeding 2,000x the bet.
What about the maximum win of Elk Studio's slots?
The graph below shows the maximum win of all the slots. It just confirms that newer Elk slots are becoming more and more volatile.   Maximum wins of 5,000x the bet are no longer exceptional since 2018/2019.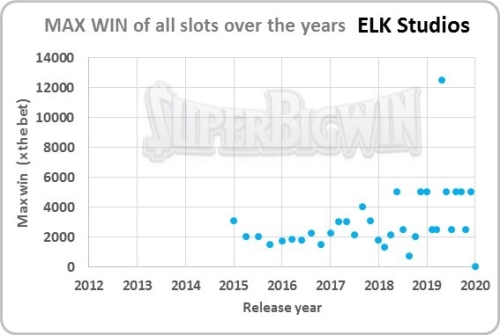 Do Elk slots have a good Return to Player?
The Return to Player (RTP) of Elk slots has been around the average, compared to the slots of other providers. Maybe slightly lower.
The graph below shows the payout rate of all the slots they have released. You can see that the RTP is always (except for Champion's Goal) above 96%, but never above 96.5%.
If you are really into playing high RTP slots only, you won't find these here.
On the other hand, the payout rates are not in no way abysmal, either.
The 4 Elk slots with the highest payout percentage are:
| | | |
| --- | --- | --- |
| Name | Year | RTP |
| Poltava | 2016 | 96.4% |
| Wild Toro | 2016 | 96.4% |
| Taco Brother Saving Xmas | 2016 | 96.4% |
| Ho Ho Tower | 2012 | 96.4% |
Then there are 15 slots with a payout percentage of 96.3%.
The 5 Elk slots with the lowest RTP are:
| | | |
| --- | --- | --- |
| Name | Year | RTP |
| Champion's Goal | 2015 | 95.7% |
| Chi | 2019 | 96% |
| Hit It Big | 2019 | 96% |
| Vegas Diamonds | 2018 | 96% |
| Electric Sam | 2015 | 96% |
We see that the 2019 Elk slots have a slightly lower RTP than the older Elk slots, though.
If there is one thing to complain about Elk slots, well, here you are!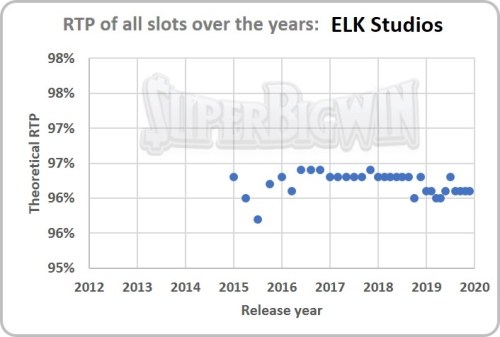 Unique to Elk Studios games: the betting strategy
Another unique feature of Elk Studios games is the option to use the so-called betting strategy. You can choose to have the slot bet for you according to fixed betting patterns.
Consequently, stakes are increased or lowered based on the results of your previous spin(s).
You pick a risk profile and leave the rest to the slot. An interesting development we have not come across in any other online slot yet.
Elk Studios slots and games reviews