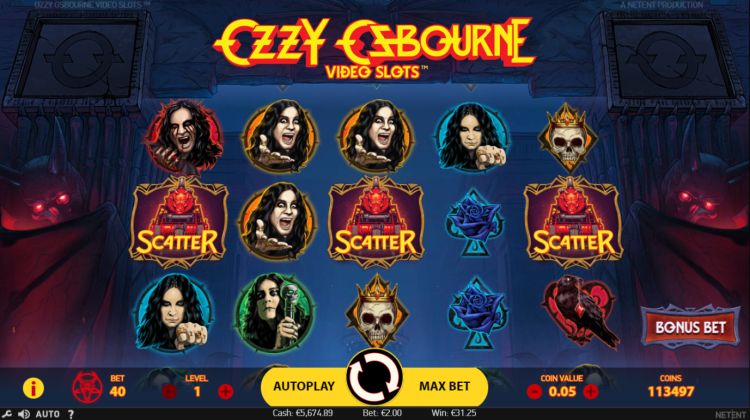 What's the matter with Netent, the once so successful and influential Swedish slot provider?

There was a time when online casinos lined up to partner with Netent, the creator of classic slots like Starburst, Dead or Alive, Jack and the Beanstalk, Twin Spin and Gonzo's Quest.
And this is only a small sum-up of a vast list of their most successful slots.
How about Guns N' Roses, The Invisible Man, Creature From The Black Lagoon and Piggy Riches?
These are quality slots, too, with well-executed themes, exciting bonus rounds, and entertaining gameplay.
The exciting feeling a new Netent slot used to evoke, has slowly disappeared.
If a new Netent slot used to be released, we couldn't wait and were full of eager anticipation. The alarm clock was set, we deposited $€ 50 or $€ 100 at our favourite online casino, and with a nice cup of hot coffee, we settled in our seat to give the Netent slot that was about to premiere, a run for its money.
As soon as that characteristic green Netent logo appeared on the screen, we knew we were about to play something extraordinary.
The thrill, the build-up of excitement, it's all gone.
Netent has slipped from a top-tier market leader to a somewhat dull mid-tier player. Not even in terms of turnover – Netent is still one of the largest providers – but in terms of relevance.
They are no longer determining the direction and new developments of the slot games industry
Netent's share price has been free-falling for years
Netent's market share is declining, and its financial results are also disappointing. This can happen once in a while, but not year after year.
Whereas in the past Netent slots always dominated the online casino lobbies, we see more and more slots from other providers — a telltale of demise.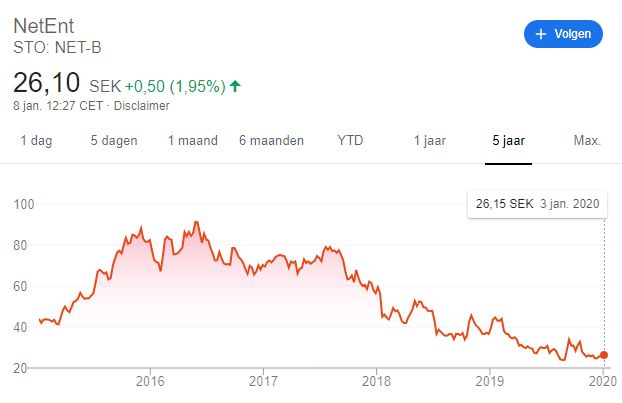 Netent gets severely penalized by investors for their poor performance. Netent's share price reached its absolute peak in June of 2016 and was worth just over 91 Swedish Kronor (± $€ 10.92).
On 3 January 2020, the value of Netent shares fell to a very modest 26.1 Swedish kronor (± $€ 2.87). A decline of more than 71%, in just three and a half years.
Netent has always been the "Golden Boy" of the online casino industry but has lost that honorary title.
In 2018 Netent's Board of Directors intervened hard and sent CEO Per Eriksson home. He was replaced by the former Netent CFO, Therese Hilman.
To date, this significant decision seems to have had little to no effect: Netent's performance has only deteriorated since the replacement at the top.
Why is Netent failing so hard?
Netent has had a tough time last couple of years. They have lost a large part of their competitive edge, and market leadership and the companies share value is shrinking noticeably.
How did this happen? What crucial mistakes did Net Entertainment, Netent's full name, make?
And how does Netent get back on its feet?
1. They focus more on quantity than quality
CEO Therese Hilman announced it at the beginning of 2019: Netent is going to release a lot more slots. The more slots, the more visibility in the online casinos and the more players will choose for Netent games, was the plan.
A simple strategy, you would think. The consequence, however, of Netent releasing a lot more slots in 2019 than we were used to, was an appalling quality of these titles.
Netent released two excellent slots in 2019: Reel Rush 2 and Dead or Alive 2. Indeed, both sequels. That indicates a lack of creativity.
Many of the other releases were Asian versions of famous slots like Twin Spin and Cosmic Fortune. Okay, for the Oriental market, but no use for North American and European markets.
Netent should have focused on developing unique, innovative and eye-catching slots instead of releasing endless spin-offs of old titles.
Even the Ozzy Osbourne slot, which should have been the hit of 2019, we qualified: "Nice, but no blockbuster." When Netent uses such an iconic rock star as the theme, you have to go for it full throttle; third gear does not cut it.
2. There is too much competition from smaller, eager slot providers
Smaller companies usually much better-motivated employees than large companies. It is easier to get to the top than to sustain your market leadership. And young slot providers don't feel shareholders breathing down their necks, yet.
So they dare to take risks much quicker. A new Netent slot has to be a success. Developers of a Push Gaming or Nolimit City slot, for example, do not feel that obligation. For them, it is a nice bonus if their slot performs more than okay. No pressure, that's how most beautiful creations can arise, think of like slots like Jammin' Jars and Pixies versus Pirates.
3. Players spend less money in their largest markets
Given their Scandinavian roots, Netent has always been enormously popular in countries such as Sweden, Denmark and Norway. Also, in English-speaking parts of the world, such as Australia and the United Kingdom, Netent slots were played a lot.
Mainly the strict regulation of the Swedish and UK markets and the mandatory withdrawal from the (very lucrative) Australian market have hurt Netent a lot.
4. Their live casino games are no match to those of Evolution Gaming
Although Netent is best known for its online slots, they also have a big branch with live casino games: Netent Live.
Twenty-four hours a day, seven days a week Netent Live offers players the opportunity to play on live roulette, live blackjack and live baccarat. The quality of Netent Live's games is certainly not bad, but are sub-par to the games of Evolution Gaming.
Again, we see that Netent is less able to innovate and amaze than its big competitor. With Netent Live, you won't find any traffic-builders like Lightning Roulette and Monopoly Live.
5. Many of their best people started their own company or have been head-hunted by the competition.
It's a bit like the effect successful national football/soccer clubs suffer from in the European Champions League: if you perform well in the Champions League, you'll lose all your best players the next season.
Many of Netent's most talented designers and creative minds became slot developers themselves and started their own successful businesses.
For example, two former Netent employees founded Quickspin. And there are countless other examples.
6. They are too distracted by other matters than making kick-ass slots
Instead of focusing on doing what they were always the best at, making market-leading slots, Netent is sometimes veering off course into a completely different direction.
For example, Netent began to act as an affiliate platform. Netent thinks visitors of their website not only want to try out their games but also want to gamble for real money afterwards.
By redirecting these players to an online casino, they earn a few extra bucks.
There's nothing wrong with affiliate marketing, and of course, Netent is free to do what they like and to set up their website in any shape or form, but to us, it still comes across as a bit desperate and cheap.
Netent is a slots provider, not a casino portal, and they need to reflect that.
Is there still hope for Netent?
Can Netent still be saved? Of course, they can.
No other slot provider can draw on so much experience, know-how and contacts and such a broad portfolio of slots and casino games.
However, Netent needs to shift its focus and reinvent itself. Less conventional slots or clones of existing slots and more unique, original slots, with that classic Netent feeling.
Make sure you come up with something that no one has ever seen before – a new Megaways or a Lightning Roulette, something of that magnitude.
Then maybe it will all work out after all.